KTM 1290 Super Duke R vs Caterham 620R video track battle
Can the incredible Caterham Seven 620R beat the mighty KTM 1290 Super Duke R around our test track?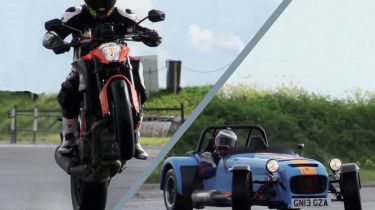 The Caterham 7 620R is one of the most extreme cars the brand has has ever made - and of course that means it's perfect for a track battle. We were planning on racing it against a KTM X-Bow but we couldn't get our hands on one of those - so we've got another KTM to race against it instead: a KTM 1290 Super Duke R.
The KTM is as lairy as a motorcycle gets and it's easily a match for the Caterham in the scary stakes. But how will it match against the 620R in a timed lap around our track battle circuit at Blyton Park?
There were some really slippery conditions at the track so the car, with its four wheels, has an advantage over the bike, as it's only got two. To even things out we put some obstacles in the path of both vehicles. There was a brake box, where they had to stop and then start again, as well as a simple slalom through some cones on the track.
The KTM 1290 Super Duke R gets a 1,301cc V-twin engine and because of the size and configuration it gives lot of grunt: with 180bhp and weighing just 189kg, that's more than enough to be getting on with.
KTM has packed this full of kit: it's got massive Brembo brakes, and if they need a little bit more help then there's a Bosch ABS system (which you can turn off if you want). Also on the electronic side you've got traction control. It works in tandem with rider mode settings and again you can turn that off if you want - to pull wheelies and do skids and burnouts.
The Caterham 7 620R is the fastest road car that Caterham's ever made. It's got a 2.0-litre Duratec engine with a supercharger and that means it's got 310bhp - but it only weights just over 500kg, so it's pretty extreme. It's also got a sequential gearbox, but no ABS or traction control obviously and a very lightly-cut slick tyre.
With the weather looking nasty, and each vehicle bursting with power, it was set to be an incredible race - and you can watch the video to find out the result.