Chevrolet Cruze SW vs rivals
We pit the Chevrolet Cruze SW against its clever estate rivals, the Kia Cee'd Sportswagon and Hyundai i30 Tourer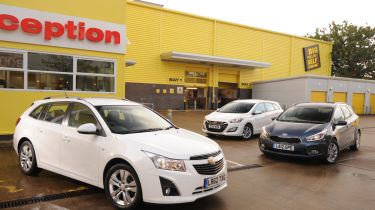 Storing a lot for a little is a piece of cake these days, as the latest generation of great-value compact estates proves. The best models will offer the maximum amount of space for the least money and will also be cheap to run and comfortable enough to carry the whole family on long driving holidays.
Chevrolet has scored hits with the seven-seat Orlando MPV and Cruze hatch. But now it's the turn of the Cruze estate to continue the success story. The newcomer stays true to its American roots, and is badged Station Wagon, but has a practical edge with its decent boot and lots of handy extra storage. We're testing it here in top-spec LTZ trim.
Taking on the Cruze SW are two hugely talented rivals – in the shape of the all-new Kia Cee'd Sportswagon and the excellent Hyundai i30 Tourer. In its first test, the Cee'd hatch came within a whisker of beating the VW Golf MkVI, while the i30 Tourer is our current compact estate champ. So, which of these spacious choices will come out on top?
Verdict
They're not as glamorous as crossovers, but these compact estates still make a great deal of sense. Not only are the cars in this trio cheaper to buy and run than the vast majority of soft-roading SUVs, they can also carry more passengers and luggage.
Even in this range-topping LTZ guise, the Cruze represents great value for money, while the gutsy VCDi engine gave it the edge at the test track. However, on the road its fidgety ride and lack of refinement were badly exposed and the cheaply finished load area is not up to European standards. Add to that some low-rent plastics and the smallest boot, and the Chevrolet finishes in a disppointing third place.
Choosing between the Hyundai and Kia is harder, but for us the Cee'd Sportswagon edges this encounter thanks to its classier look, longer warranty, smarter interior design and better fuel returns. But that's not to say the i30 Tourer isn't a fine choice – it's still well worth a look.