Chevrolet Cruze vs Skoda Octavia
The Octavia is a top choice for family buyers on a budget. But does new diesel engine make the Cruze a better option?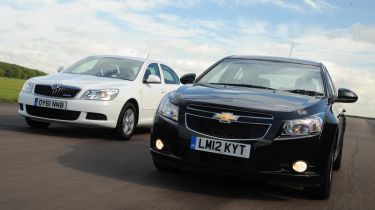 The Chevrolet Cruze has had a mixed reception in the compact family car market. It was first introduced in 2009 as a saloon, and while its value-for-money prices are undoubtedly attractive, the four-door model hasn't proven popular in the UK.
A five-door hatch joined the line-up last year, boosting the car's appeal considerably. Now Chevrolet has introduced a new efficient diesel to the range, too. It's a 128bhp 1.7-litre with low emissions and good fuel economy, but still makes enough power to give the Cruze decent performance. We test it here in a top-of-the-range LTZ-spec car.
However, there's a model that matches the Cruze for keen pricing and generous space: the Skoda Octavia. It's been the clear value-for-money champion for a few years now, and is due for replacement soon. In SE Plus spec, it still offers a stern challenge for Chevrolet's latest contender. So can the Cruze finally get one over its biggest rival?
Verdict
A new diesel engine has done wonders for the Chevrolet Cruze. The 1.7-litre VCDi model is smooth, refined and powerful, plus it offers excellent fuel economy and CO2 emissions.
In top-spec LTZ trim, the Cruze is a very attractive proposition, with a raft of standard kit. Compared to the Skoda Octavia, it's more entertaining to drive on a twisty back road and quieter on the motorway. Plus, it comes with Chevrolet's excellent five-year warranty.
It's not perfect, though. Boot space is good, but the Octavia is still the class leader in this department, while the fidgety ride and numb steering take the edge off the driving experience. And while the switches and dashboard have a quality look and feel, the Cruze is a bit flimsy elsewhere.
The Octavia is due for replacement this year, but if you want a no-nonsense, roomy and functional family hatchback that will cover motorway miles with ease, it's still an excellent choice. However, while the interior is vast – especially the boot – it looks pretty dull compared to the Chevy's and doesn't have much in the way of standard kit. The underpowered 1.6 TDI diesel engine could really do with a six-speed box, too. It has to give best to the Cruze in this encounter.