Chevrolet Cruze: Used buyer's guide
The Chevrolet Cruze is an excellent-value family car that makes a genuine second-hand bargain
What to look for
The saloon is the most cost-effective Cruze, although the hatch provides the best blend of affordability and availability. The estate is practical, but costs more.
While the 1.6-litre petrol is best avoided, the 1.8 is OK and the frugal diesels are punchier. The 1.7 VCDi is cleaner and more muscular than the 2.0, but pricier.
All Cruzes have air-con, electric front windows, ESP and remote locking. LS spec adds alloys, rear parking sensors and electric rear windows; the LT has cruise control, auto wipers and optional sat-nav.
Recalls
Chevrolet has recalled the Cruze three times so far. The first came in April 2010, because of the possibility of fuel leaks on 1.8-litre petrol-engined cars built between May and December 2009. A loose fuel pipe was the culprit.
The next recall was issued in May 2011, affecting 62 cars built up to then. This concerned a missing seatbelt retaining bolt, which was retro-fitted. After that, 810 diesel Cruzes built from November 2010 to January 2011 were recalled in November 2011 due to another fuel leak risk.
Verdict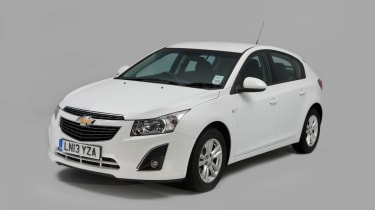 Some buyers will find it hard to overlook the Cruze's awkward styling, low-rent cabin and lack of dynamic polish. However, the car isn't necessarily poor – just outclassed by some rivals.
Where it scores highly is with its low price and running costs. It also achieved some particularly impressive Euro NCAP crash test scores, so it's not found wanting in terms of safety credentials.
Buy a year-old Cruze with a five-year warranty and servicing plan, and you should be able to enjoy practical family motoring for peanuts – all the way to 2017.
Driver Power
Our view
Chevrolet models have yet to get into our Driver Power satisfaction survey because they're relatively uncommon. However, the Cruze shares much with the Vauxhall Astra – which came a disappointing 103rd in this year's survey.
Your view
Chris Powell from Shrewsbury, Shropshire, bought his 2011 Cruze 1.8 last year. He says: "It's terrific value, spacious, comfortable, well equipped and, so far, very reliable. Competent rather than fun to drive, it's a great all-rounder."
Contacts
Official
Forums
www.cruzetalk.comwww.chevroletcruzeforum.com www.chevroletownersclub.co.uk www.cruzechat.com