New Chevrolet Volt spied
Second-generation Volt spied for the first time just days after GM announces £267m investment in Detroit plant where it will be built
The Chevrolet Volt was the first car to bring plug-in hybrid technology to the masses when it launched back in 2011, so while the rest of the industry is just getting to grips with the tech, the second-generation Volt is already deep into development.
Spotted here for the first time wearing full camouflage the new Volt – which will also spawn new versions of the Vauxhall Ampera and Cadillac ELR – is expected to go on sale in 2016, with production at GM's Hamtramck factory in Detroit beginning in summer 2015.
Any fresh design details have been covered up, but it's clear the Volt's overall proportions will be evolutionary, with the same low nose and steeply rising waistline. Under the skin however, GM is ringing the changes with a new front-wheel drive platform – believed to be based on the Chevrolet Cruze to cut costs – and a revised powertrain.
While the building blocks of the hybrid system – such as the 1.4-litre petrol engine and electric motor – will be similar to the outgoing model, GM is expected to reduce the size of the battery pack, for a smaller electric-only range, to reduce costs and cut weight.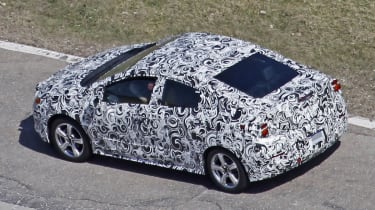 "The Ampera has one of the highest customer satisfaction ratings of any car, but it's simply too expensive," Steve Girsky, Vice Chairman of GM and interim president of GM Europe, told us. "If you want to make money it's not about the cleverest technology, but who can deliver fuel economy at a lower cost."
Currently the Ampera is capable of travelling up to 50 miles on battery power, which is key to its 235.4mpg fuel economy. But the battery pack alone costs more than £12,000 to produce.
"In the coming years I don't think you will need 100km [62 miles] of electric range," revealed Thomas Sedran, GM's Vice President of Strategy and Operations. "Around 30 to 50km [18 to 30 miles] should be enough to get you in and out of town and after that you still have the range-extender engine to help."
This first sighting of the new Volt coincides with GM's announcement last week that will be investing $449m (£267m) in the Hamtramck factory in Detroit where next generations of the Volt, Ampera and ELR will all be built. According to a SM statement $384m will go towards new tooling and equipment, while the remaining $65 will go towards a nearby battery assembly plant.