Hot Citroen C3 GTi could be on the way to rival the Fiesta ST
New sporty Citroen C3 being considered, but the performance model would still focus on comfort and refinement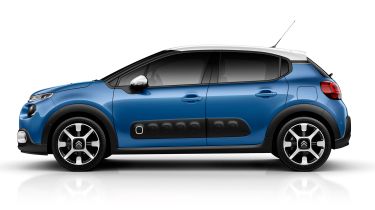 A Citroen C3 GTi could be in the pipeline according to top bosses at the French brand. The new model would continue to focus on comfort and refinement, however, despite offering comparable performance to a Ford Fiesta ST. 
Speaking from the opening round of the 2017 World Rally Championship in Monte Carlo, PSA Group CEO Carlos Tavares told us that Citroen was exploring the idea of a hot C3 using the expertise of engineers from across the business.
When asked about his ambitions for the brand, including whether WRC could influence a souped-up C3, Tavares told us: "There are may be some plans to upgrade the engines and go a little bit further. So, yes – why not for Citroen?"
• Best hot hatchbacks on sale right now
Product planning chief Xavier Peugeot confirmed this, but insisted any C3 GTi or C3 VTS would have to retain Citroen's trademark comfort, refinement and practicality.
"Is it relevant to have Citroen Racing road cars? Definitely," he said. "But I would like to keep this message of comfort at the same time. This is the challenge."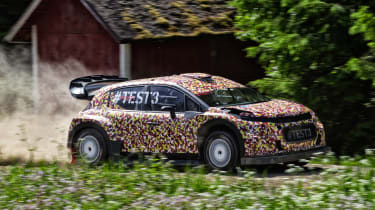 The new C3 is said to embody values of the reborn French brand, which is rebuilding its line-up over the next few years after splitting from luxury division DS in 2015. Key to this is Citroen Advanced Comfort, which mixes suspension tuning, seat design, refinement and elements like interior light and space. This will translate from the standard C3 models through to the range-topping hot hatchback.
"I spent some time in the Citroen Museum and there are lots of beautiful cars," Mr Peugeot told us. "The Citroen CX GTi Turbo struck me. It was a very fast car and it had hydraulic suspension. 
"To me, this is the right car to demonstrate that you can have very fast cars with lots of power, and at the same time you can continue to develop your message about comfort." 
Xavier Peugeot had previously gone on record saying he wanted to "re-engergise the brand" – insisting that a focus on comfort doesn't necessarily mean abandoning sporty values. 
"There is no reason for not considering the problem in a more modern way - so to me there is still some space to have a more powerful car. You can have both if you remain loyal to your message about comfort," he told us. 
This considered, it's likely a Citroen C3 GTi would take everything buyers love from rivals like the Fiesta ST and Renaultsport Clio RS, adding a softer touch with more comfortable seats, compliant suspension and a more refined cabin. With more than 200bhp from a turbocharged 1.6-litre engine, we can expect 0-62mph in less than seven seconds and a top speed of more than 140mph.
The interior will carry over largely unchanged, meaning the same touchscreen infotainment system, practical load bay and 300-litre boot. Racy touches and flashes of colour are likely to feature, but there's no word as to whether Citroen's iconic Airbumps will appear on the outside.
Partnership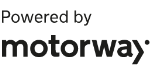 Need to sell your car?
Find your best offer from over 5,000+ dealers. It's that easy.
Tavares went on to further reinforce his intentions for the PSA Group. With Citroen Racing, Peugeot Sport and DS Performance now sitting under one roof, the company is perfectly primed to explore hot GTis for the first time in over two decades.
"We have a specific area in our Motorsports division totally dedicated to special versions and low-volume versions of sporty cars," he told us. "That division is very agile and they can do these sorts of cars in a very short period of time. So that's where we would start."
Would you like to see a hot Citroen C3? Let us know in the comments section below...