Citroen plans DS expansion
Citroen has announced its plans to expand the premium DS brand in China, with three new models planned in 12 months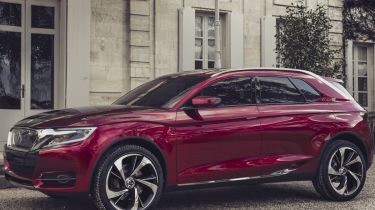 Citroen is planning a major expansion of its premium DS sub-brand in China, including the launch of three new models over the next 12 months, including an SUV, according to their managing director, Frédéric Banzet.
The struggling French firm has targeted China as a key market for growth, particularly in the premium sector, and has put a large investment into a new 'DS' factory in Shenzhen in a joint-venture with Chinese brand Changan. Production of the European-spec DS5 started back in September, and in March a new saloon version built purely for China - called the DS 5LS - will join the range, a compact saloon positioned as a rival to the Audi A3 saloon and Mercedes CLA.
Explaining the logic behind launching three new models just in China, Banzet said: "During the down turn we went through some difficult times, and we had to prioritize certain projects. We had to back the investment in China, as the whole business is far too reliant on Europe."
A compact SUV with styling based on the Wild Rubis concept from the Shanghai show will appear in the second half of 2014, but Banzet told us that a decision was yet to be reached on the possibility of this model going on sale in Europe. "The decision has not been made yet, but there is more capacity in Shenzhen if we start to sell higher volumes." Banzet said.
Currently Citroen is aiming to reach the new plant's production capacity of 200,000 units (and hit profitability) by 2016, but the biggest barrier to spreading sales to Europe would be ensuring build quality was high enough.
The head of product planning, Thomas d'Haussy, told Auto Express "The cost of importing cars from China is not as big as you might expect, the import duties are high but the cost of labour is so much lower that the gap is small." which proves that Citroen are certainly considering building global models from their new Chinese base.
Banzet also revealed that Citroen is unlikely to build a direct replacement for the C5 in Europe, due to a huge drop in D-segment sales over the last few years. "If you look at the cars in the D-segment, look at their sales, there is no limit to how far they will shrink. At the same time, we do have a responsibility to look after those who own or bought a C5 - they will need someting." he said.
The final piece of the DS puzzle in China will be a large executive saloon due to be launched in 2015, and it will be inspired by the striking Numero 9 concept - so expect plenty of visual flair, chrome detailing and LED lights.
Arnaud Ribault, the managing director of the CAPSA joint venture in China, said that by the end of 2014 there will be over 100 DS 'stores' in most of the major cities in China, and in full year they expect to sell "around 17,000 DS5 hatches" but that it was too early to make predictions about the DS 5LS or SUV - although he did admit these two models were likely to make up the majority of sales thanks to their conventional body styles.
Ribault said that he expected the premium sector in China would grow from "nine per cent, where it is now, to the 15-20 per cent that is normal for more developed markets" and that Citroen wanted to cash in on that boom, and he confirmed that sales success in China could quickly be channeled into the brand's European arm to develop future models and bolster under-used factories.