Jensen-Healey: Buying guide and review (1972-1976)
A full buyer's guide for the Jensen-Healey (1972-1976) including specs, common problems and model history...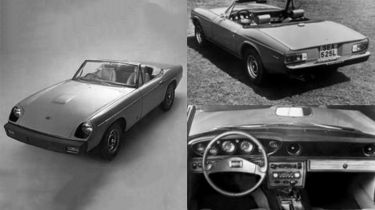 After 20 fruitful years of partnership between Donald Healey and Austin coming to an end in 1972, Healey partnered with the Jensen motor company for his next venture. The new car was, unsurprisingly, named the Jensen-Healey. Powered by a newly developed Lotus 2-litre twin-cam engine, with underpinnings from the Vauxhall Viva.
It offered superior performance to its contemporaries, but was competitively priced. Reliability issues plagued the early cars but as a package the Jensen-Healey should have been a desirable machine, for some reason though it never quite caught the public's imagination as expected.
• Best British cars of all time
For this reason though, the Healey has remained a niche car for decades, relatively unappreciated outside of the car clubs. As a result used values remain relatively low, so we take a look at these sporty two-seater convertibles 40 years on. Could the Jensen-Healey make a bargain classic buy, or an expensive folly? Read on...
Which Jensen-Healey to buy?
The first batch of Healeys introduced in 1972 had relatively Spartan interiors, with hard plastics used liberally around the doors and dashboard. The powerful 140bhp Lotus engine which gave it class leading acceleration was unchanged throughout production, although numerous mechanical upgrades were carried out.
In 1974 the Mk2 Jensen-Healey was launched and featured much improved interior finishes and a new five-speed gearbox. The interior was also updated and featured faux-wood trim (it looked better than that may sound). The rear brakes were also upgraded and the Lotus engine received an new engine block to improve reliability.
Despite their relative obscurity nowadays, over 10,000 Jensen-Healeys were produced globally, although only 2020 of these found homes in the UK. The majority went to the US, so your search can extend over the pond – but plenty have been brought back in the last few decades. Having said that, a fair number still reside in the dry Californian air, which had helped to delay the inevitable rot that all Healeys will eventually succumb to.
Keep in mind that US spec cars will have larger bumpers and slightly diminished performance due to the emission regulations of the time. The Jensen GT, featuring a shooting brake body style arrived in 1975 and only 511 of these cars were built making them the most collectible variants.
Having spent many years at the lower end of the classic car pricing scale, many Healeys have been neglected or have undergone sub-par restorations, so it is generally worth spending a bit more to get a well maintained one to avoid any potential issues. Ideally, a five-speed Mk2 model from the last two years of production would be the one to get.
Jensen-Healey performance and specs
Engine
1973cc 16 valve DOHC in-line four-cylinder
Power
144bhp
Top speed
119 mph
0-60mph
7.8 seconds
Fuel consumption
25 mpg
Gearbox
Four or five-speed manual
Dimensions and weight
Wheelbase
2337mm
Length
4115mm
Width
1600mm
Height
1219mm
Weight
1092kg
Jensen-Healey common problems
• Engine: the Lotus 907 16 valve four-cylinder engine may have been technologically cutting-edge and ultimately successful on the world's racing circuits, but its first outing was in the nose of the Jensen-Healey and this did not go so well.
• Leaks: oil leaks due to low quality cam gaskets, low oil pressure, leaky fuel lines and serious water pump failures all affected the Mk 1 cars and to a far lesser extent, the Mk2 cars. The good news is that upgraded replacement components have long been available and any rebuild should have incorporated these fixes.
• Cambelt: cambelts should be changed every 24,000 miles, oil every 5000 miles and a full rebuild is usually on the cards every 80,000 miles.
• Gearbox: Mk1 and early Mk2 models came with the clunky but hardy four-speed gearbox while the later Mk2 models all feature the more desirable Getrag five-speed unit. Jumping out of gears and crunching can signal imminent repair bills. Toyota gearbox swaps are not uncommon and unless originality is paramount they can greatly increase reliability.
• General: suspension, brakes and electrics all should have been overhauled by now, and other than requiring regular maintenance, tend to be mostly trouble free.
• Corrosion: the biggest enemy of the Jensen-Healey is rust. More cars have been lost to terminal corrosion than for any other reason, and any surviving cars would have undoubtedly had bodywork repairs carried out. Look thoroughly over every panel but pay particular attention to the footwells, boot and boot-mounted fuel tank as well as around the inside of the wheel arches. Happily, replacement panels can still be sourced and cars imported from the US will have normally suffered far less from corrosion.
• Interior: the interior is durable and once again replacement (non-OEM) parts are available but if originality is your thing you may have your work cut out sourcing parts from donor cars.
Jensen-Healey model history
1972: Jensen-Healey launched with 140bhp 2.0-litre Lotus engine. Initially available in convertible body style and with a four-speed manual gearbox.
1974: Mk2 model released, interior fittings upgraded and five-speed gearbox phased in throughout the year.
1975: Jensen GT introduced featuring shooting brake body style – only 511 made
1976: Last Jensen-Healey produced marking over 10,000 units built globally. Financial issues force the Jensen motor company to close its doors.
Jensen-Healey owners clubs, forum and websites
• www.joc.org.uk – Jensen Owners Club• www.jhps.com – Parts and spares supplier• www.jensenhealey.com – Jensen-Healey enthusiast site
Jensen-Healey summary and prices
Project cars and rusted out donor cars can be found from as little as £1000, while runners in poor condition tend to hover around the £3500 mark. Parts and spares are readily available, but unless you are specifically looking for a classic restoration project, it's always advisable to find the best condition Jensen available.
The best ones go for between £10,000 and £18,000, and these should be fully restored to a high standard; values for good ones have jumped in recent years too. The Jensen-Healey may not have the cache of some of its contemporary rivals, but thanks to its relative obscurity a good one can make for a really enjoyable classic a surprisingly attractive price.
Thinking of buying a future classic? Then take a look at these potential future classics...