Jowett Jupiter: Buying guide and review (1950-1954)
A full buyer's guide for the Jowett Jupiter (1950-1954) including specs, common problems and model history...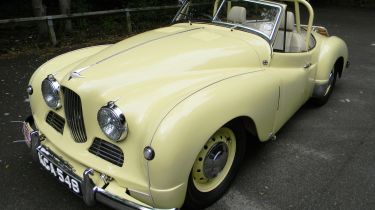 It might have looked like it was developed by Noddy and Big Ears, but the cheerful little Jowett Jupiter proved to be a very capable sports car upon its launch in 1949, and went on to take a class win at Le Mans in 1950. This unusual looking 1950s roadster was also the last production car you buy that featured a flat-four naturally aspirated engine up front, two seats and a rear-wheel drive chassis – until the GT86 came along that is…
The Jupiter appealed to the more affluent car buyer, and was seen as great performance alternative to the established manufacturers. Jowett initially started producing V-twin engines as far back as 1901, but brothers Benjamin and William soon formed the Jowett Motor Manufacturing Company in 1904.
• Best British cars of all time
The company went from strength to strength in those early years, and helped to produce a variety of cars, trucks and military components during the war. 1950 saw Jowett release its first and only sports car. While the Jupiter shared many of its underpinnings with the larger saloon Javelin, the 1.5-litre flat-four engine included, the lighter weight Jupiter offered positively eager acceleration.
The suspension design allows for fine-tuning of the cars handling characteristics and despite their relatively low power output they are a joy to drive. It achieved some notable motorsport success at Le Mans as well as on the Lisbon International Rally too.
Pricing that was not far off the much more powerful Jaguar XK120 meant that the Jupiter did not sell in large numbers, and final production numbers amounted to just 825 cars sold. Jowett ran into financial troubles in 1953, which ultimately led to its closure in 1955. Nowadays, thanks to this rarity and proven sporting credentials this little sports car has a core of dedicated supporters and remains a desirable classic.
Which Jowett Jupiter to buy?
Body styles varied depending on whether the cars were bodied by one of the external coachbuilders or by Jowett themselves, however all were two-seater convertibles. Some of the coachwork designs were more successful than others, and the variability of body panels means that restoration can be a daunting task.
The coachbuilt versions are unusual, and often difficult to track down. Stabilimenti Farina bodied four pretty fixed-head coupés, while Ghia Aigle, Beutler, Abbott and Radford were also among the many specialists who clothed Bradford's finest sports car. We love the Danish-built Sommer coupé, whose panels were shaped over a fantastically complicated lattice of thin tubes.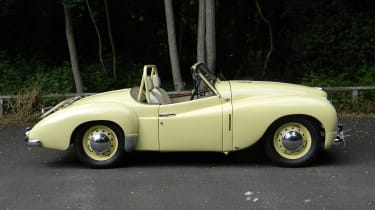 While all Jupiters had a boot, it was only Mk1a – launched in 1952 – that got an opening boot lid. A small rise in power to the 1.5-litre engine meant that it also made 63bhp, making these later cars slightly more desirable. In total, approximately 825 Jowett Jupiters were manufactured, but it's uncertain how many remain.
If you are looking for something to take racing, then you could try to track down the last remaining R1 version of the Jupiter, which was used for racing in various disciplines. Another rare Jupiter was the R4, which featured a fibreglass body, and a lightened chassis, giving it 100mph performance. Three initial prototypes were made, but with the company in financial trouble, it never made it into production. The ready availability of Jupiter rolling chassis – and its proven ability on events such as the Monte Carlo Rally – led to a wealth of specials, too.
Jowett Jupiter performance and specs
Engine
1486cc, 8valve flat-four
Power
62.5bhp @ 4500rpm
Torque
84lb ft @ 3000rpm
Top speed
85mph
0-60mph
17seconds
Fuel consumption
25mpg
Gearbox
Four-speed manual
Dimensions and weight
Wheelbase
2362mm
Length
4267mm
Width
1575mm
Height
1422mm
Weight
860kg
Jowett Jupiter common problems
• General: these are very rare cars and joining one of the UK Jowett owners clubs is essential if you want to get the most out of your Jowett Jupiter. The basic design is simple and the cars are relatively easy to work on, so do not be put off by cars that require a bit of work as the choice is very limited.
• Parts supply: parts and spares are not always readily available, and the various coach built bodies mean body panels will have to be fabricated in some instances
• Rust: corrosion in the waterways of the aluminium engine blocks can occur. Not an easy one to check, but worth taking a look through the service history to see if the engine has at some point been subjected to a thorough overhaul. Regular .
• Engine: the 1.5-litre engine was well made and also has a lot of potential for extra power. While many owners have done this, it's important to check that the car hasn't been modified in an unsympathetic way. There were a number of smaller modifications carried out to the engines and related running gear throughout production, and reputable specialists will be able to rebuild a Jupiter engine to better than new specifications.
• Suspension: the nimbleness and sharp driving characteristics of the Jupiter are thanks to its chassis and suspension design. Sloppy handling could indicate worn rubber suspension bushings and tired shock absorbers.
• Service history: verifiable histories and evidence of proper maintenance influence these cars values significantly so check that the chassis and engine numbers correlate with the documentation if you are looking for a car that claims to be original.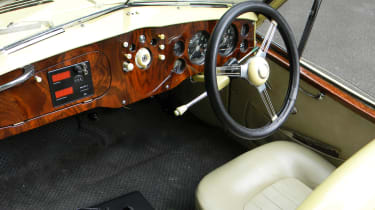 • Interior: most interiors will have been re-trimmed by now, so check the quality of stitching on the leather seats. Ensure that all the dashboard gauges and switches are working correctly on the test drive.
Jowett Jupiter model history
1950: MkI Jowett Jupiter launched. 75 Chassis supplied to external coachbuilders, but high cost meant that Jowett built most cars in-house. Racing derived Jupter R1 achieves success on track, but only three cars were built
1952: MK1a launched. This brings in larger boot capacity and opening lid to allow access from outside the car. Power up to 63bhp
1954: Final Jowett Jupiter built totalling 825 standard models. Company closes its doors for good the following year
Jowett Jupiter production figures
| | |
| --- | --- |
| Model | Numbers |
| MK1 | 731 |
| MK1a | 94 |
| R1 | 3 |
| R4 | 3 (prototypes only) |
Jowett Jupiter owners clubs, forums and websites
• www.jowett.net - Active Jowett resource and forum • www.jowettjupiter.co.uk - Interesting Jowett Jupiter website
Jowett Jupiter summary and prices
The Jowett Jupiter is a well-balanced sports car that proved its mettle in various sporting events in the early '50s and is still a fun little classic car today, ideal for someone looking for a piece of quality British engineering. A pristine example will set you back around £28,000, while rusty wrecks can be had from as little as £5000.
Generally a good, useable example will sell for around £16,000. Unless you're looking for a project to restore at home, it tends to be more cost effective to buy a solid car to begin with.
Thinking of buying a future classic? Then take a look at these potential future classics...