Dacia introduces new Bi-Fuel LPG powertrain on all UK models
New Petrol/LPG combined propulsion gives promises Dacia models more torque and lower running costs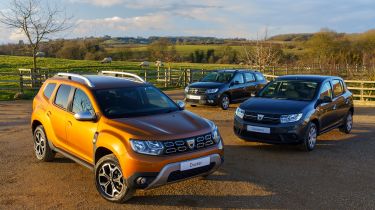 Dacia has launched a new factory-fitted dual-fuel petrol and liquid petroleum gas (LPG) powertrain, which will be available on every model the brand currently sells in Britain.
The new engine is called Bi-Fuel, and comprises a new 1.0-litre three-cylinder turbocharged petrol engine that can run on both petrol and LPG. It's able to switch between the two fuels at the touch of a button on the dashboard.
Dacia claims that the new powertrain will deliver enhanced performance due to more torque and reduced fuel costs for customers - an average of £594 a year based on the average mileage of Sandero Stepway buyers - while also delivering lower emissions.
That's crucial for Dacia, as the budget-oriented Renault sub-brand currently sells no hybrid models whatsoever, yet must meet stringent new fleet CO2 targets of 95g/km by next year, or face hefty fines from the European Union.
In the Sandero, the new powertrain is capable of 39.8mpg with CO2 emissions of 116g/km, while a Duster Bi-Fuel can do 35.3mpg with 129g/km coming out of the exhaust when using LPG - a reduction of around 11 per cent. 
In all Bi-Fuel models, a new LPG tank - 32 litres in the Sandero and Logan MCV and 34 litres in the Duster - is fitted under the boot floor where the spare wheel would otherwise be. It means that boot space in all Bi-Fuel models is unaffected.
Prices for the Bi-Fuel Sandero begin from £9,095, the Logan MCV is priced from £10,595, and the Duster kicks off from £12,895. 
At present, around 1,400 of the UK's 8,000 fuel stations sell LPG, the average nationwide price of which is 63p per litre - around half that of petrol.
Do you think Dacia have got the right idea with bi-fuel cars? Let us know your thoughts in the comments below...