'The new Dacia Spring EV needs to deliver on its £20k price promise'
Deputy editor John McIlroy believes that the all-electric Dacia Spring could become a common sight on UK roads, but only if the price is right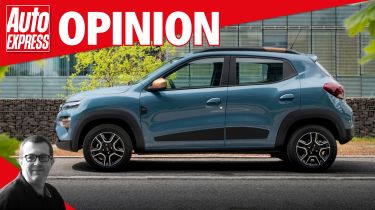 Big news can come in small packages, and that's certainly the case this week, with confirmation that Dacia's city-focused baby EV, the Spring, has finally been confirmed for the UK. It'll arrive here next year, with a revised specification but, presumably, still a relatively small battery, a weight of barely a tonne and offering probably not much more than 140 miles of range.
Those look like modest numbers. But according to Xavier Martinet, the brand's sales and marketing boss, the evidence from Europe suggests customers drawn in by the Spring's aggressive pricing quickly get used to them. 
"What we've found so far with Spring is that people do sometimes sniff at the range," he told us last week, at an event to celebrate Dacia's 10th birthday in the UK. "But then they realise that, after a while, they're not getting anywhere near using all of it. They never even fully charge it, to be honest," he said.
"Also, they've bought the Spring as a second or even a third car – just something for short trips around town, shopping and school runs. And in time, it becomes clear that it is really the first car, in terms of usage. They're driving it more than five times every day. And because it's light, it's actually really honest on its range."
In fact, Martinet and his boss, CEO Denis le Vot, think that, in time, it might be possible for Dacia to install an even smaller battery in the Spring, reducing the car's range a little, but increasing its efficiency and cutting a bit more off the list price. 
The hot gossip is that the target is less than £20k – but in truth, this is the number that we're all now waiting to see. If Dacia really can deliver even the existing Spring's recipe at the price of a posh petrol supermini, it could become an effective zero-emissions replacement for those urban runabouts that families use and abuse. And that could help the value-driven brand to gain a host of new fans as it heads into its second decade of UK sales.
Looking for a bargain EV? These are the cheapest electric cars on sale right now...