Dacia Duster vs rivals
The Dacia Duster aims to shake up the new car market. We test it against three of its toughest rivals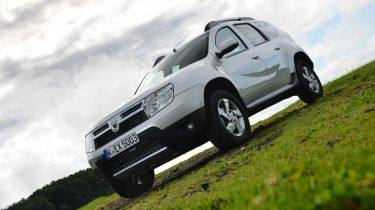 Buyers looking to make their money go a long way currently have more options than ever before. There are models to suit nearly every budget, and even entry-level cars come with the type of standard kit that would have been unheard of only a few years ago.
But one manufacturer is aiming to offer motorists even more for their money. Romanian maker Dacia is coming back to the UK with the might of Renault behind it, and it's taking the idea of value for money to new levels.
The first car it's introducing is the Duster compact SUV. Prices range from £8,995 to £14,995, so it undercuts similarly sized rivals by a huge margin. For that reason, Auto Express has set up a special first test for the newcomer.
We've picked the Duster 1.5 dCi Laureate in front-wheel-drive form for our challenge – and our rivals come close to its £12,995 price tag, but offer very different selling points.
First up is the Kia Venga. The versatile supermini-MPV is ideal for families, but is it easier to live with day-to-day than the Duster? We try the entry-level Venga 1, at £12,895, to find out.
Next is the £13,945 Peugeot Partner Tepee. This van-based MPV has a cavernous interior with lots of practical touches, while a recent facelift has given it a fresher look. Is the Duster anywhere near as versatile?
Finally, does buying a brand-new Duster make more sense than trawling the second-hand market for a used compact SUV? With a bit of hunting, you could get a two-year-old Nissan Qashqai with decent kit and a year of its warranty left for £13,000.
So where does the Dacia Duster fit into this complex market? Read on to find out...
Verdict
The Dacia Duster is a breath of fresh air in the new car market. In flagship Laureate trim, the compact SUV offers decent standard kit and, while there are clear signs of cost-saving inside, it feels solidly built – this is no budget model that will simply fall apart in about a year.
So how does it fare against our three rivals? Well, it claims its first scalp with the Kia Venga. While the Dacia's interior isn't quite as versatile as the Venga's, it feels more durable, is roomier and is more comfortable. And although the Duster can't match the Peugeot Partner Tepee for outright interior space, the financial savings more than justify another win. Unfortunately, the Duster doesn't quite do enough to beat a second-hand Qashqai. If you really want the most car for your money, a used Nissan has the edge for quality and kit.
Dacia Duster vs Kia Venga
Winner Dacia Duster ★★★★
The Dacia is well built, comfortable and has enough performance. There's plenty of room, while this top-spec Laureate model offers a decent amount of standard kit.
2nd Kia Venga ★★★
Kia's MPV has plenty of practical touches, a smart, well built interior and rivals the Duster for space and kit. But the firm ride and noisy engine are letdowns.
Dacia Duster vs Peugeot Partner
Winner Dacia Duster ★★★★
The Duster doesn't have the ultimate carrying capacity of the Tepee, but it's nicer to drive and faster. Crucially, it's a lot cheaper to buy and run as well.
2nd Peugeot Partner ★★★
For the same cost as the top-spec Duster, you have to put up with a low spec and low-power engine. So unless you need the extra versatility, the Dacia is the better choice.
Dacia Duster vs Nissan Qashqai
Winner Nissan Qashqai ★★★★
A two-year-old Qashqai is better built, better equipped and better to drive than the Duster. If you don't mind the idea of previous owners, the Nissan is a better buy.
2nd Dacia Duster ★★★★
While the Duster wins out for space and fuel economy, it's obvious how Dacia has cut costs. But despite a spartan kit list, the idea of a new car will be enough for some.