Dacia Sandero dCi vs rivals
We pitch the new Dacia Sandero diesel against two budget rivals, the Kia Rio and Fiat Panda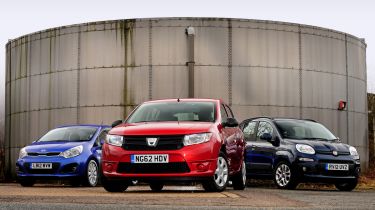 Fuel costs aren't getting any lower, so if you want to cut your outgoings to the bare minimum, a diesel supermini could be just the ticket. And with the introduction of the Dacia Sandero, the cost of owning a diesel-powered small car has fallen to its lowest level in recent years.
In this test, we line up the £8,395 Sandero 1.5 dCi Ambiance – the UK's cheapest diesel – against two other budget models. First up is the Fiat Panda 1.3 Multijet Pop. It costs £11,100, but for the money you get a distinctive small car that's fun to drive and has lots of neat and practical interior touches.
Then there's the Kia Rio 1.1 CRDi 1. The three-cylinder diesel promises some of the lowest emissions of any non-hybrid car, while the sharp looks and stylish interior go some way to justifying its £11,895 list price. So can the Sandero make an impact against its more expensive rivals?
Verdict
Each of these cars has its own strengths and weaknesses. The Dacia is a bargain, but feels like it's been built down to a price, the Kia is leagues ahead for quality, yet the economy-focused diesel is hard work, while the Fiat looks smart, but can't match its rivals for practicality.
Unfortunately, the Panda comes third. It's a hugely likeable car, but the shortage of space is frustrating. The £2,750 premium over the Sandero is also tough to swallow when so much basic kit is left on the options list, and the engine doesn't offer the same tax benefits as you'll get from the other two cars here.
Second place goes to the Rio. It feels like an upmarket product compared to the Sandero, but the lethargic diesel is frustrating, and again, there's not enough equipment to really justify the Rio's significantly higher price.
So the Sandero wins. It's basic, but it's much more spacious than the other two and, with such a low list price, it ticks the right boxes for buyers wanting a cheap, no-nonsense new car.