DS 3 (2009-2019) review - Interior, design and technology
Stylish, fashionable interior is both customisable and upmarket - but awkward ergonomics and cheap plastics let it down
The DS 3 really lifted standards across Peugeot Citroen (PSA) when it was first launched; it's maintained that for a number of years, yet the class standard has risen and it struggled to keep up by the time production had ended.
Performance spec adds some sportier detailing like 18-inch alloys, unique paint schemes, racier bumper designs and unique badging. It's more subtle than the old DS 3 Racing, but looks smart and mature. Performance Line spec isn't quite as racy to look at, though, and doesn't really live up to the name.
Inside the car is a good example of a French 'boutique' interior. The dashboard is nicely detailed, with glossy black plastics, polished metal highlights and a choice of dash inserts running across the passenger side fascia. The dials are attractive and we like the 'floating' hood sitting above them. Models with climate control look upmarket, too, while some even come with a fragrance dispenser to help disguise nasty niffs.
In ergonomics terms, though, the DS 3 is a mixed bag. The driving position is awkward for those with long legs thanks to high-set pedals, while the steering column-mounted cruise and audio controls are fiddly. Even the infotainment system introduced in 2016 felt a little out of date - especially with cars like the Peugeot 3008 raising PSA's game. Quality is a mixed bag, too - you don't have to look hard to find scratchy, hard plastics.
Top-spec DS 3 variants get indulgent 'watch-strap' leather seats, making it feel every inch the downsized premium car. You even get an integrated air freshener on all but base models, which is a nice touch even if you might not like the smell.
Equipment levels are very good on the DS 3, particularly if you steer clear of the basic Chic version. All models feature cruise control, speed limiter, front electric windows, tyre pressure monitor and front fog lights, for example – the distinctive LED daytime running lights that so characterise the DS 3 are also included on all. Inside, every version up from the base car gets LED interior mood lighting. High-tech Xenon LED Vision headlights are an option on all and standard on upper-line models.
Safety features like Active City Braking have been made standard as of 2016, which can't be said for some rivals.
The amount of customisation options is vast, with over 3 million combinations of colour (including roof colour and classy Pearl White paint), trim, wheels, interior fabrics, you name it. DS groups these into various packs and trim lines, to make things a bit more manageable, but be prepared: buying a DS 3 is not as straightforward as choosing a regular Citroen.
Sat-nav, stereo and infotainment
The 2014 facelift brought new technology to the DS 3, the most appealing of which is touchscreen sat nav. This is standard on the Elegance trim and above, and controls almost all of the car's numerous systems.
From 2016 it was updated further with better software and graphics, plus the optional addition of Apple CarPlay and Android Auto tech. It's still not the easiest system to operate, though - the menus are slow to load and often confusing, while it lacks the rotary controller found in some rivals.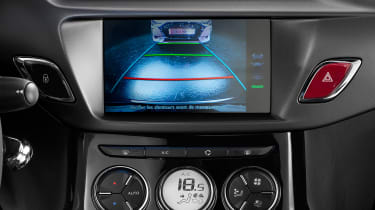 The regular six-speaker stereo system is OK but an upgraded hi-fi, which includes a sub-woofer and central 'surround sound' speaker on the dash, is standard on top spec models. All models get remote stereo controls, and Bluetooth, USB socket and DAB features on all but the basic Chic.