DS 3 (2009-2019) review - Practicality, comfort and boot space
Boot is a decent size and there's reasonable space, but it's three-door only and cabin stowage is poor
Find your DS 3
Offers from our trusted partners on this car and its predecessors...
Or are you looking to sell your car?
Advertisement
Being derived from the sensible and practical Citroen C3 means the DS 3 is reasonably spacious for this sort of car. Space in the front and rear isn't bad and the boot is tidily designed as well. The obvious hindrance is the lack of a five-door option, something even its impractical MINI hatch rival has solved in recent years. 
DS execs will argue that if you want something more practical, there's plenty of choice within the Citroen range that's priced similarly to the DS 3. Keeping it to three-doors also helps focus the brand's marketing efforts and draw in the young, hip customers it so desires. 
Although space is fine, storage is hit-and miss. There's a couple of cubbies in the centre stack and the door bins are adequate, but the glovebox is pitiful (and cheap-feeling) plus there's still no proper cupholders. 
Size
The DS 3 is a compact small car, following the lead of the trend-setting MINI Hatch. It is 3,948mm long, 1,715mm wide and 1,483mm tall, making it roughly similar in size to an Audi A1 and roughly 150mm longer than a MINI. 
The DS 3 is actually very similar in size to the country's best-selling car, the Ford Fiesta. It's worth bearing this in mind if you're downsizing from a larger car – you'll pay premium prices for a DS 3, but you'll end up in a smaller car than the one you're switching out of.
Do also note that most models get standard rear parking sensors (good for easy city centre parking), and a reversing camera is also available.
Leg room, head room & passenger space
The DS 3 is not the largest car in its sector, but it's larger and more practical than the compact MINI Hatch. The driver doesn't feel too cramped (despite an awkward driving position) and the cut-away dashboard on the passenger side accentuates space there. That's at the expense of the glovebox, however, which is tiny.
All models get a height-adjustable driver's seat as standard: it's an option on the passenger seat too, with upper-range models getting it as standard.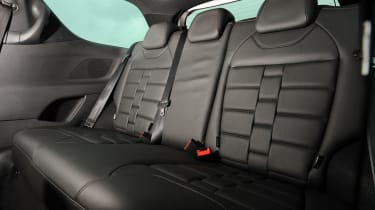 Actual space in the rear isn't bad, but it feels more cramped than it is due to the small windows (tinted on upper-trim models, adding to the gloomy feel), large B-pillars and the indulgent front seats that block the view out. For adults, consider it a short-hop 2+2; you can get three in, at a push, but we wouldn't recommend it.
Getting in and out of the rear is a bit tricky too, due to the large B-pillar and chunky front seats. At least there's a grab handle on each side of the B-pillar to help you clamber out again. All versions of DS 3 also get three rear head restraints as standard, which is a good safety addition. 
Boot
A 285-litre boot is a big practicality tick for the DS 3. This is just 10 litres smaller than a Ford Fiesta, for example – and it's a massive 35% larger than the MINI Hatch three-door. This fact alone will be the reason why some choose a DS 3 over the sorely compromised MINI.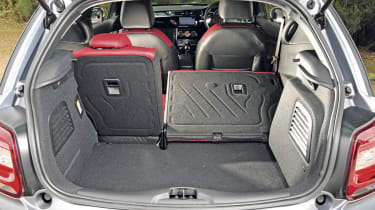 All DS 3s get split-folding rear seats as standard, extending the boot space to 880 litres. The sill of the boot is perhaps a bit high – a legacy of its sporty design – but it's still a practical and useful space.