DS 3 Crossback E-Tense gains an extra 13 miles of range for 2022
DS 3 Crossback E-Tense now has more efficient ancillaries, which have boosted the EV's range by almost seven per cent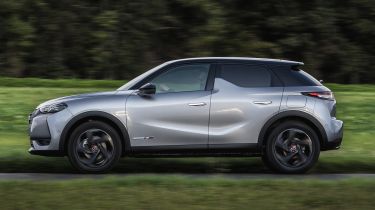 DS has made a few tweaks to the 3 Crossback E-Tense, fitting some less energy-sapping accessories that have added 13 miles to its driving range. Now, the SUV can cover a maximum of 212 miles between charging stops.
The improved DS 3 Crossback E-Tense is available to order in the UK now, with prices starting from £31,500 including the government's £2,500 plug-in car grant.
Upgrades start with a new heat pump, which warms the cabin by compressing air rather than using a heating element. There's also a new moisture sensor for the cabin, which monitors the cabin atmosphere and disengages the heater wherever possible to save energy.
The DS 3 Crossback E-Tense also gets a new gear ratio that improves the EV's energy consumption when cruising. Now, the electric motor doesn't need to spin quite as quickly at motorway speeds, and therefore uses less energy.
DS has fitted new energy-efficient tyres, too, which help cut down on rolling resistance and therefore transmit more of the battery's energy into propulsion rather than wasting it on drag. The new tyres are A-rated for energy efficiency and supplied by Continental.
The DS 3 Crossback's 134bhp electric motor and 50kWh battery pack haven't changed over the previous version of the car – all of the tweaks are external to the electric drive unit.
As such, performance isn't likely to alter much. The EV's top speed should still stand at 93mph, although its 0–62mph time might increase slightly over the previous model's 8.7 seconds, on account of the longer gear ratio.
Peugeot recently made some similar upgrades to the e-208 supermini and e-2008 crossover, which improved both range figures by a similar margin. All three cars share the same EMP1 underpinnings, so it was only natural the improvements would make their way across the wider Stellantis stable. 
By that metric, we can also expect slightly more efficient versions of the pure-electric Vauxhall Corsa-e and Vauxhall Mokka-e in the near future.
Now click here to read about DS will only launch electric cars from 2024 onwards…