High prices and charging worries hold up EV sales
Two thirds of drivers would like to go electric, but are deterred by the lack of financial incentives and charging infrastructure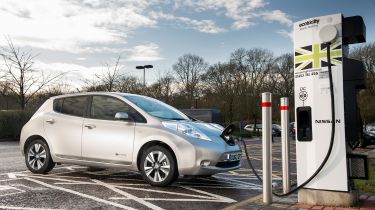 EV sales to fleets are surging ahead but the appetite among private buyers to transition to battery cars is tailing-off, leading to renewed calls from the car industry for more action on financial incentives and improving the UK's charging infrastructure.
Just one-in-four new EVs is sold to a private motorist today, versus one-in-three this time last year. The declining take-up among private buyers as a proportion of overall sales is a big concern for car makers, who are faced with the prospect of an imminent government mandate on zero tailpipe-emission vehicle sales. That will potentially see them face fines for failing to sell enough zero-emission vehicles as a percentage of their overall sales volumes, although legislation has yet to be enacted for the policy that the government has committed to implement from January 2024. This has led to uncertainty as to what the penalties may actually be.
According to the Society of Manufacturers and Traders (SMMT), the latest research among private buyers reveals that more than two thirds of non-EV drivers (68 per cent) would like to switch to an EV, but the lack of any financial incentive, and worries about the limitations of the UK's charger network, are leading to deferred decisions. Only two per cent plan to make the switch to EVs this year, the SMMT reckons, with 17 per cent planning to do so in 2024 and most saying it won't be until 2026 or later.
Pulling those purchase decisions forward would depend on the availability of financial incentives, according to two thirds of the SMMT's survey sample, with a similar number of respondents saying they'd need to see improvements in the UK's public charging infrastructure. 
According to the SMMT, since the removal of the Plug-in Car Grant in 2022, the UK has been the only major European market with no taxpayer-backed incentives to support EV sales, yet it is also the market with the most ambitious timeline to end sales of internal combustion-engined cars. 
Speaking at the SMMT's annual Electrified conference in London on 18 Sept, SMMT chief executive Mike Hawes was joined by motor industry big-wigs including VW Group UK managing director Alex Smith, Toyota GB managing director Agustin Martin, and Ford of Europe director of sustainability Stuart Southgate, all of whom repeated calls for government action to incentivise EV sales, demanded greater clarity on proposed legislation around the zero emissions mandate, and expressed support for a similarly legally-binding mandate around minimum numbers of charger installations.
Want the latest car news in your inbox? Sign up to the free Auto Express email newsletter...