Ferrari V8 hybrid for 2019 SUV spied under development
Spy video of silent-running 488 test mule suggests the Ferrari plug-in hybrid V8 powertrain is getting closer to production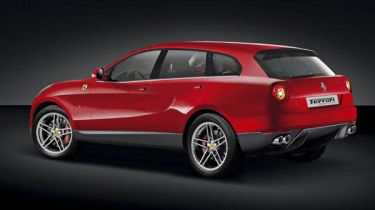 Ferrari has been spotted testing its upcoming plug-in hybrid V8 powertrain, confirmed to Auto Express by boss Sergio Marchionne at the 2018 Geneva Motor Show. 
At last month's show, Marchionne revealed that the hybrid system would arrive in 2019, and that the firm already had test mules running. This video reveals one of them, being a brief glimpse of a 488 GTB based mule seemingly driving on electric power only and in silence.
It'll be the first series production hybrid after the limited-run LaFerrari hypercar, and while Ferrari is currently using the 488 as a bed to develop the powertrain it's not yet completely clear which Ferrari model it will debut in.
The timing suggests that the V8 hybrid unit could be slotted in Ferrari's as-yet-unnamed SUV, which is also due next year. Such a car would compete with less sporting hybrid SUVs like the Bentley Bentayga PHEV, and could become one of the brand's biggest sellers.
Marchionne claims that the new powertrain "needs to become more of a traditional hybrid [than the LaFerrari] to fulfill a different role". The sold-out hypercar used a Formula 1-style Kinetic Energy Recovery system, offering much more of a performance benefit than an efficiency boost. 
As such, Ferrari looks set to adopt a plug-in hybrid system, offering a useful all-electric range and a significantly reduced CO2 figure in order to meet more stringent emissions legislations in 2020. Such targets only apply to carmakers selling over 10,000 units a year, which Ferrari does not yet, but Marchionne claims that "once we are selling more than that it will become an issue". 
No power outputs or efficiency figures have been cited yet, but when asked if the hybrid powertrain will mean a loss in character when compared to a V12, Marchionne said "have you driven a Ferrari hybrid before? When you do I'm sure you won't miss your V12". 
"We will embrace electrification. It will become a mainstay in our portfolio" Marchionne went on to say. Despite this, he also confirmed that more Ferraris powered solely by internal combustion engines will be launched in the coming year. 
Get more of the news from the 2018 Geneva Motor Show here...