Fiat 124 Spider
The Italian firm is back in the small sports car business, courtesy of Mazda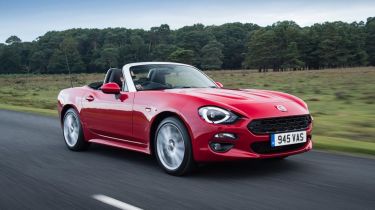 Price: £25,055Engine: 1.4-litre 4cyl petrolPower: 138bhpTorque: 240Nm0-62mph: 7.5 secondsTop speed: 134mph
The classic formula of front-engined, rear-wheel drive open-top motoring is tried and tested in the sports car world, and Fiat has previous with building such cars. Fortunately, its latest effort is both relatively cheap and a whole heap of fun to drive. What's more, Fiat turned to Mazda when making the new 124 Spider, using the foundations of the brilliant MX-5 to make sure they had the best possible footings to start with.
Unlike the Mazda, the 124 comes with a 1.4-litre turbocharged unit, helping separate its character from the high-revving naturally aspirated MX-5. It produces 138bhp and 240Nm of torque, which will allow you to hit 62mph from a standing start in just 7.5 seconds.
What's more, if you fancy more power there is the option of the Abarth model, which pumps out 168bhp and will go from 0-62mph in just 6.8 seconds.
Best cheap fast cars 2018
3. Mazda MX-5
5. Hyundai i30N
8. Toyota GT 86
10. Fiat 124 Spider