'A decade on, the Fiat 500 is still going strong'
Editor Graham Hope pays homage to the Fiat 500 city car ten years after its first road test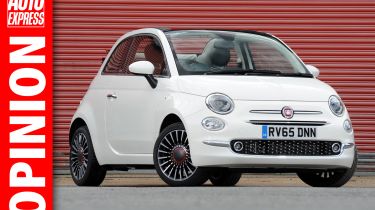 The pace of change in the industry is ferocious, as this week's issue again testifies. But amid the hi-tech development, is there a more remarkable car on sale than the Fiat 500? Incredibly, it was 10 years ago this week that we first tested the then new 500. The reborn city car lost out to the MINI, but impressed sufficiently for us to say: "It signifies a new era for Fiat."
Our reasoning was perfectly simple. "It's a machine that makes people smile when they see it; even those who don't have much interest in cars," our test reflected. History has proven just how spot-on that assessment was.
A decade and one major facelift – in 2015 – down the line, what is ostensibly the same car continues to find buyers with ease, even though it is now some way off the pace dynamically in its class. A total of 35,149 were bought in the UK last year, down from a peak of 44,006 in 2014, but still extremely healthy for a car that is now so long in the tooth.  
As Fiat celebrates the 60th anniversary of the launch of the original 500, it deserves praise for such a successful rebirth. Redesigning a classic is no easy task, as Volkswagen will testify with the Beetle.
But Fiat must also start thinking about what it'll do when it comes to replacing the current car. Strong sales or not, it can't go on forever, and there are surely only so many special editions one model can inspire. The company has been quiet on its plans, but I'd imagine we'll likely see something new by 2019.
And what to expect? When I last spoke to global boss Olivier François, he told me the 500 is "more relevant than ever because it is a city car and people are hungry for urban mobility solutions. Because it is our golden goose, we're very protective of it". You can deduce from that, then, that whatever is in store will in no way risk ending one of motoring's most enduring success stories.
Are you a fan of the Fiat 500? Let us know in the comments area below!