Car hunter: Reliable first cars
Our reader has £2,000 to spend on a trusty first car, but which one?
Dear Chris,I'm after an attractive first car that's cheap to insure and doesn't have a 'boy racer' image. My budget is £2,000 – any ideas?Nick Mortimer, E-mail
If you'd like help choosing your next car, contact chris_ebbs@dennis.co.uk.
The best buys:
Excellent pedigree: Fiat Panda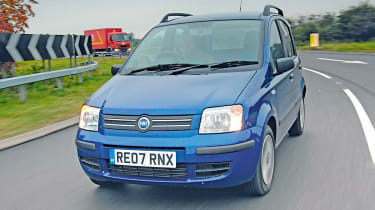 For: Heritage, engines, cabin spaceAgainst: Boxy shape, reliability issues
While the second-generation Fiat Panda doesn't have the same stylish lines as the original, it's a very functional choice. The result is a car that has slipped under the radar of boy racers, despite its many talents.
Built in Poland, the Panda was named Auto Express Car of the Year in 2004, and if you stick with the 1.1 or 1.2-litre petrol engines, it's as cheap to insure as they come, sneaking under insurance group five. It's available as a five-door only and has a spacious, practical cabin, full of neat design touches like the high-mounted gearlever. The quality of the materials could be better, but despite the lack of soft-touch finishes, it's well put together.
For £2,000, you can choose from a wide range of Pandas. Just ensure you get a post-2005 car – these feature a passenger airbag, ABS and EBD as standard.
Spacious choice: Skoda Fabia Estate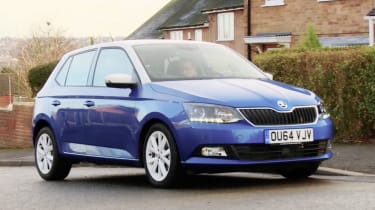 For: Practical, good value, running costsAgainst: Not much fun to drive, slow
The Fabia is regarded as one of the best cars Skoda has ever produced, and heralded a major change in how the company was perceived. It's not as fashionable as its SEAT or Fiat rivals here, but the Fabia has an image of understated quality, and Skoda's previous reputation means boy racers won't give it a second look.
If you need some extra space or practicality, look no further – the Fabia estate has a massive 426-litre boot, which is bigger than many cars from the class above. There's even a choice of engines, all of which have insurance below group five, including the talented 1.4-litre petrol or agricultural but frugal 1.9 SDI diesel.
A wide choice means you can afford to be picky with your £2,000 budget. We found a 2003 Comfort model with 50,000 miles on the clock for only £1,700.
Top build quality: SEAT Arosa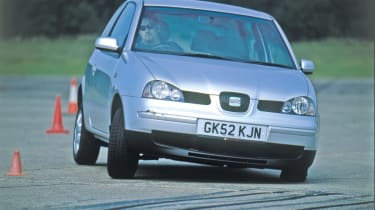 For: VW engineering, styling, spaciousAgainst: Small engine, three-door only
SEAT doesn't have the same reputation for quality as its VW Group stablemates, but the Arosa is proof that it should do. The city car was so well put together that, shortly after it launched, Volkswagen produced its own badge-engineered version, called the Lupo.
Yet while the Lupo has become a darling of the modified car scene, the Arosa has largely escaped the attention of boy racers. The result is relatively low demand and very competitive prices, although if you want insurance below the group five threshold, only the 1.0-litre models will be suitable.
While it's no pocket rocket, the 1.0 Arosa is economical and fun to drive. With a £2,000 budget, you can expect to get behind the wheel of a 2003 or 2004 car with only 40,000 miles on the clock.