Under £15,000 - Fiat Panda 4x4 1.3 Multijet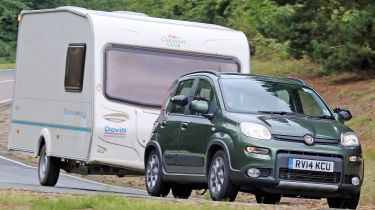 Contenders
Dacia Logan MCV 1.5 dCi LaureateFiat Panda 4x4 1.3 Multijet SsangYong Korando SE
Our sub-£15,000 category was always going to be closely fought, as it comprised only three cars – one of which was last year's champ, the SsangYong Korando SE. But a newcomer stole the show. In a unanimous decision, our judges placed the entertaining Fiat Panda 4x4 at the top of the pile.
With its Tonka-toy proportions, the Panda 4x4 certainly looked the part hitched to a Bailey Pursuit 400-2 caravan – and it backed up its tough styling with a confident lap of the high-speed bowl at Millbrook.
The mighty 1.3-litre Multijet diesel engine is perfectly matched to the five-speed manual transmission, meaning the car hauled the caravan through all our acceleration tests with ease, while the high-set driving position made placing the Fiat on the road a doddle.
However, it was the Panda 4x4's ability to tow with such stability that impressed the judges most. Even at more than 60mph, crosswinds around the two-mile bowl couldn't upset this car and caravan combination – it felt safe and secure.
The Fiat continued to impress on the hill section as well. This chunky four-wheel-drive city runabout is a great driver's car in its own right, and when hooked up to the caravanit excelled itself on the challenging route's sweeping corners and took the sharp hairpin bends with relish.
The handling is amazing for such a small car, and it breezed round the course seamlessly. Even the steep 14 and 17 per cent inclines couldn't stop this baby 4x4 as it outperformed some of its bigger, more powerful rivals here.
It's practical enough for a small family, too, with the reasonable 225-litre boot growing to 870 litres when you fold the rear seats. It's just a pity the 40:60 split-fold layout is available only as an option. Still, if you want a car that delivers bags of character, a fun drive, limited 4x4 ability and great towing credentials, look no further.