'Ford's scrappage scheme is good news for customers'
Graham Hope believes that Ford's new scrappage scheme will incentivise drivers to buy cleaner cars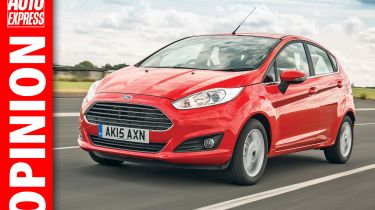 With the September plate change due on Friday, I've no doubt some of you may be ready to take the plunge and shell out on a new car.
So credit to Ford for its announcement last week of a scrappage scheme. To be honest, we haven't had much to commend Britain's top-selling car brand about of late; it had no winners at all in our New Car Awards this year. But as a piece of public relations opportunism, the timing of this news was perfect.
• Ford announces petrol and diesel scrappage scheme
In this week's issue, we explain what the blue oval is proposing (as well as details of the trade-in schemes that other makers have launched this year). But the gist of Ford's offer is that you can get £2,000 off a selection of models in the company's range, including the excellent new Fiesta, if you trade in any vehicle from any brand registered before 31 December 2009. This will then be scrapped.
On the face of it, everybody wins. Ford is gaining plaudits for facilitating the permanent removal of some of the most polluting vehicles from our roads. Off the back of this, it should help boost its sales at a time of year when interest is extremely high.
It's good news for customers, too. Some who were already considering swapping will get a discount they hadn't bargained for. And others may be finally tempted to chop in their old car for new wheels.
Of course, the reality is that in terms of tackling the wider issue of air pollution, this is a mere drop in the ocean. The number of cars likely to be scrapped won't be significant in the general scheme of things; many owners who are running pre-2010 bangers won't have the money to buy a new car anyway.
But as a piece of positive PR, it's long overdue. The industry has been too slow to incentivise new products and shout about its work on cleaner tech to counter a very vocal anti-car lobby. Ford's move is a start in redressing the balance, and so very welcome.
Will Ford's scrappage scheme convince you to ditch your older car? Tell us your thoughts below!