Autonomous tech requires major overhaul of cities, says Ford boss
Ford CEO Jim Hackett has revealed the marque's audacious plans to better integrate connected and autonomous cars in the city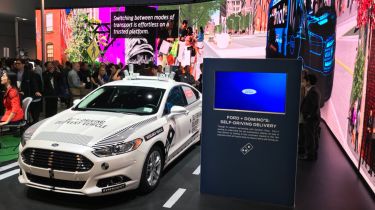 Major cities around the world need to be updated and overhauled so they are ready for the roll out of autonomous and connected vehicles, according to Ford CEO Jim Hackett.
The recently appointed boss of the Detroit marque said the design of global cities was out-dated and have reached congestion capacity. Speaking at the Consumer Electronics Show (CES) Hackett talked about Ford's City of Tomorrow, which he said will re-imagine how our streets and cities function.
• All you need to know about driverless cars
Ford wants major global cities to incorporate autonomous connected cars into their infrastructure, by developing technology that intertwines self-driving cars with public transport, pedestrians and the streets they're driving on. For that reason, Ford has partnered with tech companies Autonomic and Qualcomm, who will help develop technology required for connected self-driving vehicles to operate in cities.
"With the power of AI and the rise of autonomous and connected vehicles, we have technology capable of a complete disruption and redesign of the surface transportation system for the first time in a century," said Hackett. "Everything from parking, traffic flow and goods delivery can be radically improved — reducing congestion and allowing cities to transform roads into more public spaces".
Autonomic will provide cloud-computing expertise in the form of the Transportation Mobility Cloud. This will connect self-driving vehicles with traffic lights, smart devices of nearby pedestrians and city infrastructure, and relay information from the vehicles to local cloud-based servers. If congestion occurs, the software can reroute other vehicles to avoid disruptions as a result of data feedback from vehicles already in traffic.
The Qualcomm Technologies will provide C-V2X vehicle sensors that can interact with other self-driving vehicles and smart devices to improve safety for drivers and pedestrians. Ford believes it will also improve traffic flow and help free up additional space in cities.
Hackett is under no illusion as to the scale of the task, adding: "The challenge is enormous. We are talking about orchestrating the entire transportation network that is already woven into the fabric of our urban environments and civic life".
Do you think Ford's vision for the future of cities is realistic? Let us know in the comments.