CES 2018: Consumer Electronics Show live
We round-up the latest automotive technology unveiled so far at the 2018 Consumer Electronics Show (CES) in Las Vegas
As the motoring and tech worlds continue to collide, more and more carmakers are putting in appearances at the Consumer Electronics Show (CES). Held in Las Vegas, It's one of the world's largest consumer and household gadget trade expositions, and it's rapidly becoming an important fixture on the automotive calendar.
While new model reveals are by and large still reserved for the more established motor shows, CES is an opportunity for brands to do a bit of stargazing. It's all about showcasing future technologies. As such, autonomy, electrification and new infotainment tech are all key themes for any manufacturer in attendance.  
With the show now under way, a clutch of car companies have already revealed their ideas of what the future of automobiles will look like. Here's what to look out for.
CES 2018: news headlines
• Fisker to launch solid-state battery tech in 2023• Kia to release 16 electrified cars by 2025• Kia aims to sell cars with level 4 autonomous tech by 2021• New universal charging tech to allow EV drivers to use any plug
CES 2018: live gallery
Click below for all the latest images from the 2018 Consumer Electronics Show.
CES 2018: all the key show information
Byton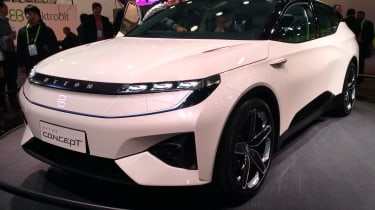 Chinese start-up Byton launched its debut vehicle at this year's CES. Taking the shape of a large SUV, the Byton Concept has been assembled with the future in mind, with 5G WiFi built-in and level 4 autonomous technology due in 2020. For now, it's equipped with level 3 autonomy along with a 'digital lounge experience' that includes inward rotating front seats and a 49-inch display that spans the dashboard. 
The entry-level production model will cost $45,000 when it goes on sale in 2019, making it nearly half the price of the Tesla Model X. Power comes from a 71kWh battery, giving 268bhp and 250 miles of range from a single charge.
Fisker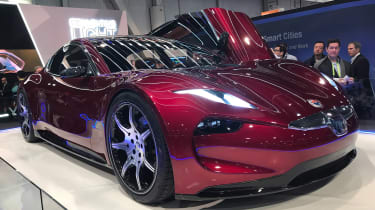 Fisker unveiled the EMotion at CES, an electric four-door saloon planned for a 2020 introduction. A 160mph top speed is claimed, as is a 400-mile range from a single charge. Costing $129,000, it rivals the Tesla Model S P100D saloon, which tops out at $135,000 in the US. Its potential 400-mile range betters the Model S P100D by 19 miles.
Fisker has also unveiled its potentially revolutionary patented solid-state battery technology at the trade show. Compared to traditional lithium-ion batteries found in the EMotion, solid-state car batteries are said to have 2.5 times greater energy density. Fisker aims to implement solid-state batteries into its vehicles by 2023 and should the technology take off, Fisker EV's could have a range exceeding 500 miles and be charged within 60 seconds.
Honda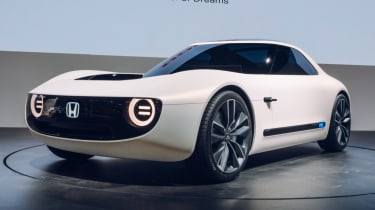 Honda will showcase a wide range of artificial intelligence, robotic and energy solution technology to CES attendees. Four 'Robotics Concepts' will be on display, each codenamed 3E. One such concept is the 3E-D18, an autonomous off-road vehicle in the shape of a quad bike that has built-in Artificial Intelligence (AI) to aid people in 'a broad range of work activities'.
Other autonomous concepts include a self-driving mobility concept with multi-functional cargo space, an autonomous 'chair' for use inside and outside, and a robot companion that shows compassion to humans through an array of facial expressions.
Hyundai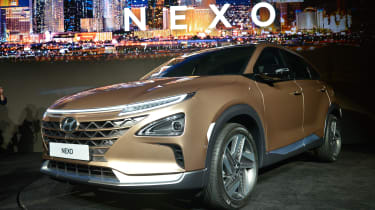 Hyundai has revealed a production version of its FCEV fuel cell SUV concept at CES, having already made public a selection of images of the crossover last week. Called NEXO, it will go on sale in select markets later this year, eventually reaching UK dealers in 2019.
Partnership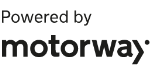 Need to sell your car?
Find your best offer from over 5,000+ dealers. It's that easy.
Inspired by the Kona crossover, the NEXO production model will be Hyundai's fourth-generation hydrogen fuel cell-powered car; it's said to be 20 per cent lighter, nine per cent more efficient and much cheaper than the ix35 FCEV it replaces.
Hyundai will also reveal a new digital personal assistant called Intelligent Personal Agent. It's a voice activated virtual assistant not too dissimilar in function to what you'd find on a new smartphone, and will be introduced as a feature on new Hyundai models from 2019 onwards. 
Kia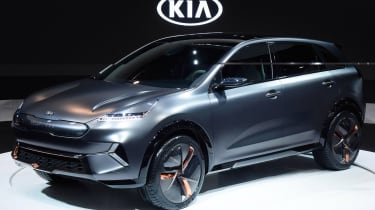 Kia formally unveiled an all-electric Niro SUV at CES. Although billed as a 'concept' for now, it's set to join the current crop of Niro hybrid and plug-in hybrid models later this year. It's a taster ahead of the production model arriving in 2019 and boasts plenty of concept tech, including 'beyond autonomous' technology such as a human-machine interface (HMI) and a 'motion graphic' lighting system.
Kia also told Auto Express at CES that it will aim to sell vehicles with level 4 autonomous technology by 2021, and that public testing within 'smart cities' will begin next year. The Korean manufacturer also aims to rollout 16 electrified vehicles by 2025, which includes its first hydrogen fuel-cell-powered car in 2020.
Mercedes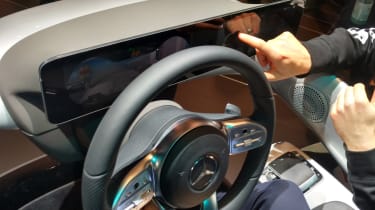 Mercedes' all-new MBUX infotainment system has made its debut at CES. The German manufacturer has confirmed the tech will make its debut in the cabin of its all-new A-Class, which features the new widescreen integrated infotainment system and digital instrument display.
MBUX stands for Mercedes-Benz User Experience and it delivers artificial intelligence-based technology and a intuitive operating system, according to Mercedes. The brand also says the MBUX infotainment system will 'usher in a new era' for on-board vehicle connectivity.
Nissan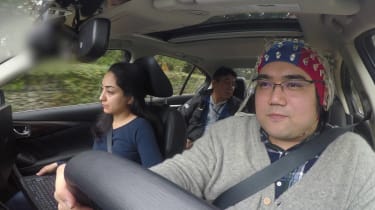 Nissan will showcase what it calls Brain-to-Vehicle technology at CES this year. It's research that Nissan says could coach drivers to improve their reaction times behind the wheel, but also make journeys more enjoyable by enabling cars to read brain activity and adapt to what the driver requires. The system can predict a driver's action before it happens, enabling driver assistance features to step in earlier. It can also detect discomfort, and alter the car's settings automatically to suit the driver's preferences.
Rinspeed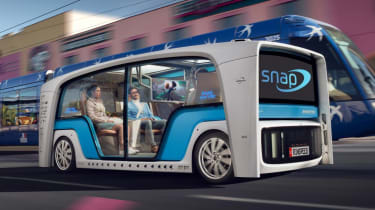 Whacky Swiss car firm Rinspeed has created a self-driving microbus called the Snap. The company has created cars that can drive on lakes and dive underwater but its latest creation seems, on the surface at least, slightly more conventional than we've seen before. The chassis of the Snap has computer hardware and software built into it, which aids the vehicle through city traffic by itself.
The occupants inside have built-in 5G WiFi and Bluetooth connectivity as well as on-board tablet computers. The Snap also features six projectors that display warning signs to oncoming vehicles. It also comes with an autonomous robot for 'personal assistance' should the customer opt for one.
Toyota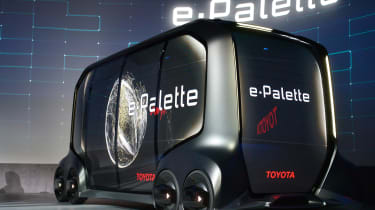 Toyota used the 2018 Consumer Electronics Show to show off their vision of the future with the e-Palette. The ride-sharing concept is an autonomous EV and has been designed to be fully customisable inside and out, meaning it can be tailored to any customers' needs.
The Japanese brand also revealed the new e-Palette Alliance in partnership with tech giants Amazon and Uber. Toyota says these companies, and others, will help collaborate on vehicle planning of the e-Palette itself, helping to achieve the goal of autonomous parcel and passenger delivery.
Which manufacturer has got you most excited about CES 2018? Let us know in the comments below...