New universal charging tech to allow EV drivers to use any plug
Continental's AllCharge tech would allow EV drivers to use any existing AC or DC plug to recharge their car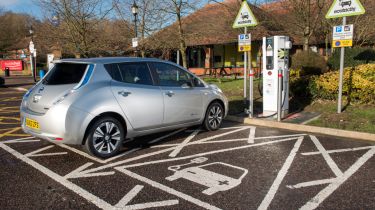 A new universal charging technology is set allow future electric car drivers to use any cable-based charging station to recharge the batteries in their car.
Tech and tyre company Continental has launched two new charging systems for electric cars at this years Consumer Electronics Show in Las Vegas. The Continental AllCharge system is said to serve as a "universal pass key" that will allow future EV drivers to use any cable-based charging station.
The AllCharge system would be supplied by Continental to vehicle manufacturers who would incorporate the tech into their models. Continental is planning to start production of the AllCharge in 2022.
• Electric car charging in the UK: prices, networks, charger types and top tips
Current charging technology involves converting alternating current (AC) from the grid into direct current (DC) to charge the battery. The conversion from AC to DC currently takes place in either the charging station (DC charging) or on-board the vehicle (AC charging), with fast DC charging stations more expensive to build.
This has resulted in a number of different charging standards across different vehicles. To allow future electric cars to recharge from any station, Continental's engineers have adapted the electric motor and the inverter to enable them to support the task of charging by adding a DC/DC converter that ensures power flows to the battery at the optimal voltage level. This allows the system to use both AC and DC charging stations without issue.
• Best electric cars on sale 2018
This means cars equipped with Continental's All Charge tech can use both AC and DC chargers. With AC chargers, charging rates of 43kW can be reached, providing a range of 50 miles in just 10 minutes, while use of 800-volt fast-charging stations boosts range to 300 miles in 10 minutes.
Brian McKay, director of powertrain technology and innovation at Continental North America said the system can also support cars sending electricity back, to power things like home appliances. McKay also said the tech is "future proof" to meet a changing charging infrastructure by meeting charging rates of 350kW in the future.
Continental also announced details of its wireless charging system that enables electric cars to charge without a cable. Charging pads placed under ground would communicate with the car and give a quick charge once the car has come to a halt. Continental says a 20-minute stop can be used to increase range by 12.5 miles thanks to the 11kW charging rate.
Would an EV that's capable of using all charging stations make you more likely to buy one? Tell us in the comments below...