New Ford S-MAX and Galaxy mild-hybrids set for 2020 release
New Ford S-MAX and Galaxy mild-hybrids announced as part of Ford's plans to release 14 new electrified models by 2020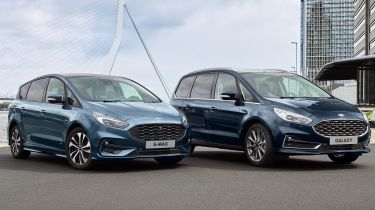 New mild-hybrid versions of the Ford S-MAX and Galaxy have been announced as part of Ford's plan to roll out 14 new electrified vehicles by the end of this year. The two MPVs will use the same powertrain from the forthcoming Kuga Hybrid, which is due to reach UK showrooms later this year. Both cars will use a 2.5-litre Atkinson cycle petrol engine, an electric motor and a compact water-cooled lithium-ion battery.
The system will develop a targeted combined output of 197bhp and 210Nm of torque – and Ford says the powertrain will provide better in-gear acceleration than the equivalent 2.0-litre EcoDiesel model. Emissions figures for the new mild-hybrid powertrain are also expected to be around 140g/km of CO2.
• Best hybrid cars on sale now
As an added benefit, Ford says the mild-hybrid system won't encroach on either car's storage space. The five-seat S-MAX Hybrid will retain the same 2,200-litre boot as its conventionally powered sibling, while the seven-seat Galaxy Hybrid will offer the same maximum capacity of 2,339-litres.
The announcement was made following the firm's €42 million investment in its Valencia production facility, which will fund the construction of two new vehicle battery assembly lines.
Work on the company's Spanish production facility is due to be completed during the summer, with production set to start in September. The investment will allow Ford's lithium-ion batteries to be constructed alongside the electrified vehicles they're destined to be used in, which the company says will allow for better manufacturing efficiency.
Fancy knowing more about electric cars? Then head over to our sister site DrivingElectric for all things electric...