CES 2015: Ford experimenting with solutions to the hassle of city driving
Ford has started 25 worldwide experiments looking at improving driving in congested cities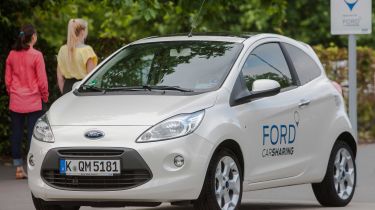 Ford has revealed plans to become a leader in connectivity, autonomous driving, the customer experience and data handling at the Consumer Electronics Show in Las Vegas. However, Ford boss Mark Fields does not want to be first to market with the new tech, harking back to the days of Henry Ford by bringing the new technology to the masses.
"We're not in a race to get the first autonomous car on the road," he told us, "It's making it more accessible that counts."
Fields also revealed how Ford has opened up its software platforms to allow open source developers to help create the technology and apps that Ford will be offering in its cars. Winners of a competition to create useful tech included the makers of smart parking app Parkopedia.
Ford's Smart Mobility plan includes 25 experiments around the world to feed into the company's thinking for how it develops the technology in and around its vehicles.
The experiments are all set to address what Ford sees as four global mega trends: population growth, an expanding middle class, air quality and health issues, and changing customer attitudes. They will take place in a number of cities around the world, with London leading the way.
Nine will occur in Europe and Africa, eight in North America, seven in Asia and one in South America – with each experiment designed to anticipate what customers will want and need in the future.
"We see a world where vehicles talk to one another, drivers and vehicles communicate with the city infrastructure to relieve congestion, and people routinely share vehicles or multiple forms of transportation for their daily commute," Fields said. "The experiments we're undertaking today will lead to an all-new model of transportation and mobility within the next 10 years and beyond.
"We're not in a race to get the first autonomous car on the road," he told us, "It's making it more accessible that counts."
Easing congestion in cities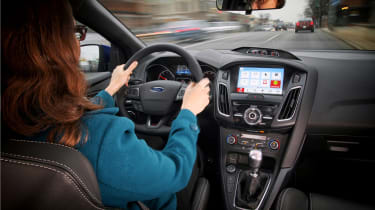 London is leading a number of the experiments. Tests include different ways of easing congestion in dense urban areas, including car-sharing, parking, and shuttle service projects.
The car-sharing scheme, called City Driving On-Demand, is already in the pilot stage in the capital and allows commuters to reserve a Focus Electric or Fiesta 1.0-litre EcoBoost through an app or call centre. The cars are then unlocked via a smartphone app or membership card, and can be accessed 24/7. Pricing is per minute, with fuel, insurance and the city's Congestion Charge included.
Finding a parking space
Another experiment called 'Painless Parking' involves a new, real-time smartphone app service that can help stressed-out drivers find a parking space based on their profile preferences and on their GPS location. Meanwhile, 'Dynamic Social Shuttle' claims to be "more convenient than a bus, and better value than a taxi" and is a pay-as-you-go, shared shuttle service.
London will also test out Ford's experiment in the world of car insurance. 'Data Driven Insurance' allows a driver to create a personalised insurance quote to help reduce costs and uses a smartphone app enabling users to remotely check the location of their vehicle and fuel levels. Ford said it "could help identify potential congestion and help authorities improve traffic flow".
Autonomous driving tech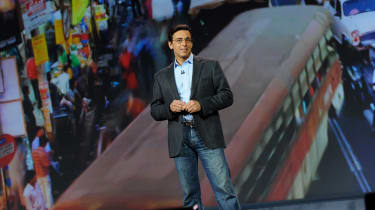 The experiments are part of a wider plan from the carmaker called 'Ford Smart Mobility' which is also analysing the company's exploits in autonomous driving. Engineers are currently piloting a fully-autonomous Ford Mondeo Hybrid research vehicle using systems already used in Fords – such as lane-keeping assist and Traffic Sign Recognition – but with added sensors creating a 3D map of the surrounding environment.
Fields said that it was his intention to democratise the technology in cars, helping different communities around the world and using the Smart Mobility experiment to take a collaborative approach to development.
However, Ford's chief ruled out the company racing to becoming the first car maker to sell a fully-autonomous car, declaring: "Our priority is not in making marketing claims or being in a race for the first autonomous car on the road," Fields said. "Our priority is in making the first Ford autonomous vehicle accessible to the masses and truly enhancing customers' lives."