3. Ford B-MAX
Novel door combinations are nothing new in the supermini-MPV segment - but the Ford B-MAX's are more than a simple gimmick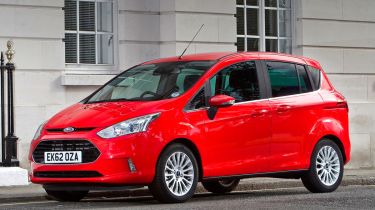 Novel door combinations are nothing new in the supermini-MPV segment - but the Ford B-MAX's are more than a simple gimmick. The Vauxhall Meriva reintroduced the idea of suicide-opening rear-hinged back doors in 2010 but the Ford has gone one step further; by getting rid of the pillar that separates the front and rear doors its engineers have come up with a design that really delivers on its promise of making life easier.
Park the upright B-MAX in a tight space and its conventional front door and sliding rear door make getting in and out a doddle, whichever seat you're lucky enough to find yourself in. Strapping young children into unwieldy car seats is made easy and elderly passengers will appreciate both the car's raised body and its wide door-openings.
A terrific line-up of engines and talented chassis that delivers both comfort and refinement add to its credentials as a fine family choice. Ford's full arsenal of safety aids merely serves to underline its appeal. Only its slightly upright proportions let the side down.
But this is a minor gripe – and we like the B-MAX so much we awarded it Best Five-Seat MPV at the 2013 Auto Express New Car Awards.