Ford B-MAX vs rivals
The innovative new Ford B-MAX has thrown the MPV class wide open. We test it against key rivals from Kia, Renault and Skoda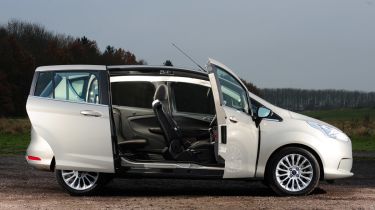 Ford is opening up the family car class with the B-MAX. This ingenious new supermini-MPV combines a B-pillarless design with sliding rear doors to make getting in and out easy. But there's more to it than those clever doors.
It's been designed to drive just as well as the Fiesta on which it's based, and Ford hopes that its mix of clean engines, an upmarket cabin and smart looks will win over buyers. To find out how good the B-MAX is, we've set the range-topping 1.6 TDCi Titanium model against a trio of stand-out family cars in a unique triple twin test.
First up is a roomy conventional supermini-MPV, in the shape of the great-value Kia Venga. Next is the Renault Scenic, which is bigger and better equipped than the B-MAX, but not far off its price. Finally, does the Ford have what it takes to defeat a practical crossover like the popular Skoda Yeti?
Verdict
Ford has done it again. Just as it did with the C-MAX and S-MAX in the past, it's proven that practical family cars can be fun to drive and desirable.
The sliding doors and pillarless design make getting in and out of the B-MAX really easy, plus passenger space and boot volume are reasonable for a supermini-MPV of this size. Few family cars will be as easy to live with day-to-day as this clever newcomer.
The cabin is smart, and thanks to its Fiesta-based chassis, the B-MAX is a delight to drive. The 1.6-litre diesel engine could do with more power, but refinement and ride quality are first-rate. CO2 emissions of only 104g/km mean the car will be clean and cheap to run.
So the B-MAX is another direct hit for Ford and fully deserves its 2-1 win in this encounter.
Ford B-MAX vs Kia Venga
Winner Ford B-MAX ★★★★
The Ford is a bit pricey compared to the Kia, but the looks, interior quality and driver appeal make it much more desirable. It's also more efficient.
2nd Kia Venga ★★★
With plenty of space and a big boot, well priced Venga has a lot going for it, but a low-rent cabin, firm ride and noisy engine limit its appeal.
Ford B-MAX vs Renault Scenic
Winner Renault Scenic ★★★★
The Renault has more space inside, and is more efficient than the Ford. The driving experience lacks sparkle, but it's refined and comfortable.
2nd Ford B-MAX ★★★★
If you don't regularly carry five people or need a bigger boot, go for the B-MAX. But it's thirstier and doesn't have a generous aftersales package.
Ford B-MAX vs Skoda Yeti
Winner Ford B-MAX ★★★★
The Ford is fun and easy to drive. It also handles well and has the feel-good factor to take on and beat a talented crossover like the Skoda Yeti.
2nd Skoda Yeti ★★★★
The Yeti is great to drive, practical and rugged, but GreenLine model has a firm ride and isn't very refined. It isn't efficient enough, either.