Ford Fiesta makes £3k price leap as base cars are axed
Ford has cut the Studio and Style variants from the Fiesta range to clear space for cheaper Ka+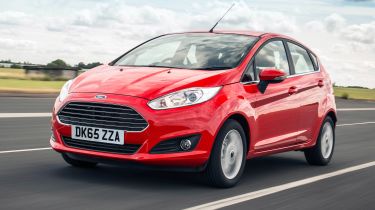 The UK's best-selling car has just become quite a lot more expensive, with two entry-level variants being cut from the Ford Fiesta range. That means the starting price for the supermini is now £13,395, which is up from £10,345.
This is part of a strategy to clear space for the new Ford Ka+ in the line-up, which offers buyers a Fiesta-like driving experience (it's based on the same platform) with a starting price of £8,995, which will go up to £9,995 for Zetec model.
High-spec Ka+ Zetec cars get manual air-con, Ford's SYNC infotainment system and a range of options including 15-inch alloy wheels, a leather steering wheel with cruise control, folding side mirrors, DAB radio, climate control, electric rear windows and heated seats.
A Ford spokesperson told us that "With the Ka+ coming in soon, we want to position the Fiesta further up in the market so as not to cannibalise our own sales. Most of all, though, it's because Studio and Style models only make up three per cent of Fiesta sales." Most buyers choose Fiesta Zetec or Titanium models in the UK.
That means that despite the price rise, it's unlikely to lose its position as the UK's best-selling car - in 2016 so far the Ford Fiesta has sold 71,823 units, which is significantly more than the second-place Vauxhall Corsa, which has sold 47,962 units.
Are you looking forward to the new Ford Ka+? Let us know why below...