Hot Ford Kuga is planned but ST badging unlikely
Ford has its sights set on performance version of the Ford Kuga to complement the luxury Vignale model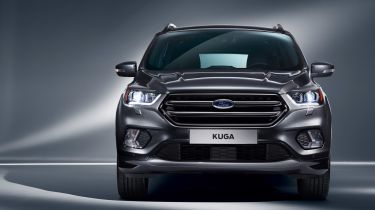 Ford has hinted again that it is considering giving its Kuga some added spice. The facelifted Ford Kuga model was unveiled at the 2016 Geneva Motor Show, and executive vice president Raj Nair admitted the company was observing the trend for heated-up crossovers with interest.
An Abarth 500X is on the way while SEAT has admitted it is looking into the possibility of an Ateca Cupra, so a hot version of the Kuga would seem a logical range expansion for Ford.
"We're seeing a little of that in the US with the Explorer Sport and Edge Sport," Nair told Auto Express. "A little bit more horsepower and a little more crisper handling is certainly something that we are seeing."
But any warmed up Kuga model is unlikely to wear the ST badge currently sported by the Fiesta and Focus. "We have certain aspects of a performance criteria for an ST, although it's not that we couldn't get the vehicle there," said Nair. "But it might not be what the customer is looking for."
Get more of the top news stories from Geneva 2016 here...