Ford Mondeo Hybrid 2014 review
Ford Mondeo Hybrid could be attractive for company car buyers, but it should probably be avoided
Not as economical in the real-world as a diesel Mondeo, nor as sweet to drive as the petrol, and pricier than both, the Hybrid also falls down because of its noisy powertrain, which is completely at odds with the sublime manners of conventional new Mondeos. Unless it's a company fleet must-have, this is the version to be avoided.
Here's what Ford would have you believe is a pocket-friendly benefit of its new 'One Ford' world car policy, which sees cars like the Ford Mondeo, Fiesta and Focus sold in almost identical guises in markets like Europe and the US, rather than having costly specific models. There's never been a petrol-electric Mondeo before, but such is the demand for hybrids in North America, Ford has developed this car and it's now arriving in Europe.
Ford claims the Mondeo Hybrid can achieve 67.3mpg and is as yet the only Mondeo to emit less than 100g of CO2 per kilometre. The Hybrid's fuel tank is only 53 litres, while all other Mondeos swallow 62.5 litres, limiting its range. That's not the only sacrifice you make for the hefty battery pack either – the Mondeo Hybrid (available only as a four-door saloon) has just 382 litres of boot space, compared to 550 litres in the hatch. And as it's a saloon, you can't fold the rear seats down. The price you pay for this is £24,995 - £750 more than a top-notch Mondeo 2.0 TDCi Titianium.
The hybrid drivetrain itself mates a naturally aspirated 2.0-litre petrol engine with a front-mounted electric motor, which delivers a combined power output of 186bhp. It uses an Atkinson-cycle engine to deliver decent mid-range economy, and electric power to fill in the torque gap this creates. However, Ford has actually plumped for two electric motors. One is exclusively tasked with regenerating electricity under braking, leaving the drive motor to get on solely with the job of maximum-torque thrust.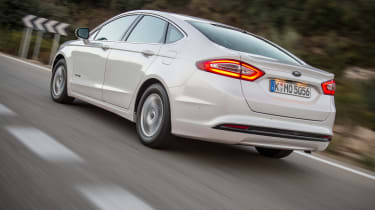 That's the theory, but on the road the Mondeo doesn't feel close to 190bhp's worth. Taller sidewalls with less tyre grip and a lack of outright body control really hobble the Hybrid. Equipping the car with a droning, slow-to-respond CVT 'gearbox' saps power and leaves the engine pitched in a droning resonant revband that's in complete contrast to the rest of the new Mondeo range's fine road manners.
That said, the petrol engine does cut in almost imperceptibly at low revs – e-motor power can be used exclusively up to 85mph, and regenerative braking replenishes the juice used up. There's an initial grabbiness to the brake pedal as a result, but mostly the pedal feel is very consistent for a mild hybrid.
On a short test route, our Mondeo Hybrid averaged an indicated 43mpg. Obviously spending more time at urban speeds would improve that, but Mondeos are hardly natural city cars. Your real-time energy consumption is displayed on a nicely rendered readout in the new instrument cluster, which uses an analogue central speedometer and ancillary screens left and right.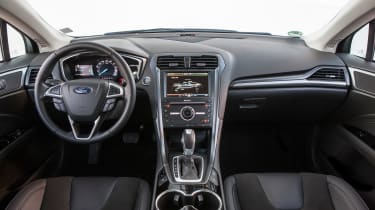 Predictably, the double bad news of too much weight and low-rolling resistance 16-inch tyres upsets the Mondeo's neat and tidy handling characteristics. There's more body roll and tyre squeal even at sensible speeds than an American movie car chase, and the brakes dislike a workout.
With the diesel versions cheaper and more frugal in the real-world, and the petrol cars a far sweeter drive, it's no wonder that Ford only expects to sell a few hundred Mondeo Hybrids in the UK annually.