Hot Ford Shelby Mustang Mach-E on its way
Ford's performance brand, Shelby, is to do a fettled version of the electric Mustang Mach-E.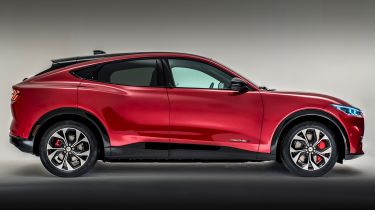 Ford bosses have confirmed that a Shelby-badged version of the new Ford Mustang Mach-e is in the pipeline, Auto Express can reveal. 
The new Ford Mustang Mach-E, revealed at the LA Motor Show, is the company's first brand extension of the Mustang name, and with 0-62mph times mooted to be around four seconds for the performance GT version. But now Shelby will take that to the next level with an even hotter version. 
Ed Krenz, chief program engineer at Ford Performance, told us: "I'm looking forward to the challenge of applying the Shelby characteristics to an electric car. The trick for us is the fun-to-drive part, and sustainability in terms of charging. It needs to be capable to go all day on a track day – you can't do 20 minutes and then have to charge it all night."
A Shelby branded version of the Mustang Mach-E would be in-keeping with Ford's determination to prove Mach-E's providence as a performance car, and to justify the iconic pony badge it wears. 
Krenz added: "Straight line bit is easy with electric cars, but we know the Shelby DNA down to the ground and applying that to electric is difficult. Even so, all weight's not bad; we've had Mach-E on the simulator and the low centre of gravity is an opportunity."
Speaking at the launch of the Mach-E, Darren Palmer, Ford global director for Battery Electric Vehicle Product Development, explained that "Mustang needs to be relevant long-term. This takes Mustang in a new direction, and safeguards and supports the base Mustang for the future. I'm not commenting on a Shelby version but, it's a Mustang…"
The standard Mustang Mach-E goes on sale towards the end of 2020, but expect a Shelby branded version to follow later in 2021 with prices likely to be around £65,000.
Are you excited about the prospect of a performance Mustang Mach-E? Let us know your thoughts in the comments below...