Geely's new electric saloon to enter overseas markets
Chinese auto manufacturer Geely reveals its latest all-electric saloon, tasked with taking on the global EV market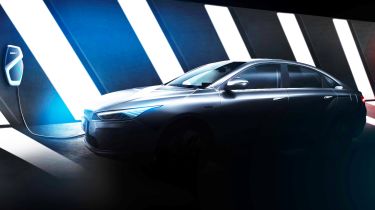 Chinese car manufacturer, Geely, has announced it will make a new, all-electric saloon to replace its aging Emgrand EV. However, unlike the Emgrand, Geely will attempt to sell this new model globally as well as domestically, pitting itself against established electric car manufacturers such as Tesla, Hyundai and Nissan.
Details on Geely's new all-electric saloon are still sparse, with a only a single shadowy image revealing its design. The most visible feature is a pair of large headlamps, which stretch across the front of the car and extend above the wheel arches.
Geely says the body of this new model, with its long bonnet, swept back roofline and retractable door handles, has been styled to maximise aerodynamic efficiency and increase driving range. The company claims a drag coefficient of around 0.24, which matches that of the Tesla Model 3 and Hyundai Ioniq EV, while improving on the Nissan Leaf's 0.27.
We expect an improvement in performance over the previous Geely EV saloon. Powered by a 125bhp permanent magnet electric motor, the Emgrand EV covered 0-62mph in 9.9 seconds and achieved a top speed of 87mph, while its official driving range stood at around 155 miles.
Given that the latest Nissan Leaf will sprint from 0-62mph in under eight seconds, the latest Tesla Model 3 will easily crest 100mph and the new Hyundai Kona Electric has a 279-mile range, Geely will have to up its game to be competitive on the global market.
The new all-electric Geely saloon is expected to debut later this year. Prices and full specifications are yet to be announced, but we'll update you with the latest information as soon as its available.
Now read our review of the Geely Emgrand EV. Let us know your thoughts in the comments section below…