Honda Xcelerator programme partners with tech start-ups at CES 2018
Silicon Valley-based Honda Innovations funds six mobility tech start-ups to help transform its future product range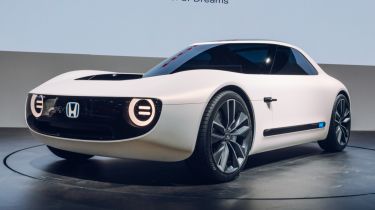 Honda has used this year's Consumer Electronics Show to announce a partnership between its innovation programme, Honda Xcelerator, and six technology start-ups. The aim is to improve future mobility tech, including autonomous drive systems and artificial intelligence.
Honda Xcelerator is part of Honda Innovations, a Silicon Valley-based centre that focuses on providing access and funding to experimental start-ups. It prioritises enterprises working on connected vehicles, artificial intelligence, energy innovation, personal mobility solutions and robotics.
The partnerships, demonstrated by Honda at the CES Global Innovator Showcase, include companies from the US, Canada, Europe, Israel and Singapore. New York-based BRAIQ is developing tech that measures passengers' reactions to autonomous driving systems to personalise the way the car drives itself, while DynaOptics, based in Singapore, provides autonomous camera lenses with advanced 'free-form' optics.
Honda is also investing in California's DeepMap, which provides high-definition, real-time maps as a service to autonomous cars, and Tel Aviv-based EXO Technologies, which claims to provide high-accuracy, low-cost GPS positioning solutions for driverless systems.
Finally, it has partnered with Canadian start-up Tactual Labs, a team from the University of Toronto that is innovating with real-time human body 'pose sensing', used in gesture control systems for in-car tech. The Japanese carmaker is appealing to further start-ups to apply into its programme during the CES show.
Get all the news from CES 2018 here...