Honda outlines all-electric future with trio of e:N-badged concepts
Three new Honda concept cars preview new EVs heading into production in China by 2024 with global export in mind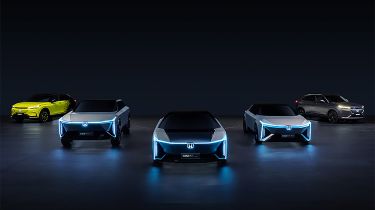 Honda has revealed three new e:N-badged concept cars that will form the basis of a new all-electric line-up built in China, but with global export in mind.
The three new concepts, called the e:N Coupe, e:N SUV and e:N GT preview three models in what will be a 10-strong range of new electric vehicles the company plans to launch by 2030, and are joined by a new electric SUV with two variants badged e:NP1 and e:NS1.
The e:NP1 and e:NS1 twins are both based on the firm's new e:N Architecture F chassis, which is an electric platform designed for compact EVs with front-wheel drive electric powertrains.
But the e:N concepts preview cars on the company's e:N Architecture W electric platform, which will underpin its larger electric vehicles. It's also been specifically designed to work with rear- and all-wheel drive layouts. No performance or technical specifications for this new platform have been confirmed.
Previewing what looks like a radical next-generation design language for Honda's electric line-up, the angular, brutal styling will almost certainly be toned down.
The firm will start production of the three new e:N concepts in 2024. The cars will be assembled in newly built, "highly efficient and environmentally responsible EV production plants," but specifics on the factories' climate targets and energy sourcing are yet to be confirmed.
Now click here to read about Honda's plan to relaunch the Integra in 2022…