Honda CR-Z vs Renault Megane Coupe
Can the facelifted Honda CR-Z really cut it as a sports car? We test it against the Renault Megane Coupe to find out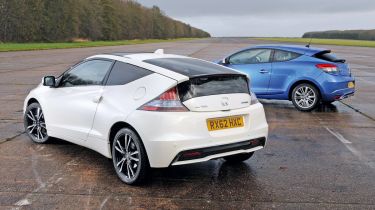 Hybrid sports cars are here to stay, but the Honda CR-Z has never quite managed to secure a place in our hearts.
When it arrived two years ago, it promised to be fun and frugal in equal measure, but ended up as a halfway house – not sporty enough to take on petrol coupes and not clean enough to choose over an efficient diesel rival.
That could be about to change, as Honda has raised the stakes with a facelift. New batteries and tweaks to the engine have raised its total output to a respectable 135bhp, while an F1-style boost button gives an extra 10 seconds' assistance from the electric motor.
Minor styling tweaks keep the CR-Z looking fresh, but will they be enough to see off the Renault Megane Coupe that beat it in our previous test?
The Renault has also been revised. Desirable GT Line trim gives it a sporty edge to match the CR-Z, while a punchy 1.5-litre diesel engine means it has staggeringly low CO2 emissions of just 90g/km. So which clean coupe is better?
Verdict
Honda has raised the performance stakes with this new CR-Z, but has it finally delivered a hybrid coupe to set driving enthusiasts' pulses racing?
More reviews
In-depth reviews
Long-term tests
Road tests
Used car tests
Its slick manual gearbox is still a joy to use, but the heavy steering and firm ride hamper its ability to entertain. The Plus Sport boost button feels like a cheap gimmick rather than a genuniely useful overtaking feature, and the problems that dogged the outgoing model remain: coupe buyers may not bat an eyelid at the cramped cabin and tiny boot, but there are plenty of hot hatches that offer genuine performance and practicality for less cash.
The Renault isn't in the same league for straightline performance, but it soundly beats the Honda at the pumps. The Megane is also fun to drive thanks to its agile chassis, plus its diesel engine feels perky enough in everyday driving. It also matches its rival for style and hi-tech kit, while the icing on the cake is the £21,800 list price: £1,250 less than the CR-Z.
That's enough to allow an upgrade to the superb 1.6-litre dCi engine, closing the gap in performance. Some buyers will prefer the high-revving Honda to the more sedate Renault, but overall the CR-Z still struggles to justify its place in a competitive class. Honda needs to rediscover its sports car magic before the new NSX arrives later this year.