Hyundai confirms development of new 'halo' sports car
A new halo model that will sit within Hyundai's N division is in the pipeline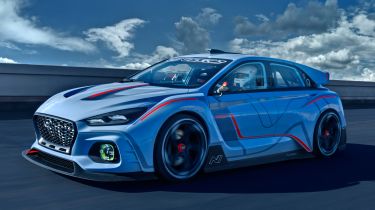 Hyundai's new N performance brand will develop its own standalone vehicle, the company's Vice President of high-performance and motorsport Thomas Schemera has confirmed. 
The launch of the i30 N hatch and fastback, along with the Velsoter N, which will not go on sale in the UK, is the "completion of the first phase of N vehicles," according to Schemera.
• Best performance cars on sale
The next step in the development of the N brand is a bespoke, standalone model. Schemera added: "The whole idea is to strengthen the Hyundai brand, to bring more emotion. 
"I can tell you Albert Biermann [Hyundai engineering boss] and myself are interested in hot things and have some ideas in the pipeline for a halo model - rest assured we are coming up with something."
Auto Express understands there is still an internal debate going on within the company as to what the 'halo' model should be; whether that takes form as a two-seater sports car or performance saloon like the Kia Stinger is still being discussed. The model, as a result, is still several years away from production.
Biermann has also spelled out plans to be involved with the development of new models from the very beginning so the process of engineering Hyundai's core products into N models is streamlined. That process is expected to begin with the next-generation i20 supermini.
Hyundai launched the N brand with the RN30 concept (pictured) at the 2015 Frankfurt Motor Show.
Are you excited by the prospect of a halo N model from Hyundai? Let us know below...