Hyundai Elevate walking robot car staggers into CES 2019
Hyundai has designed a robotic walking car, capable of climbing obstacles up to five feet high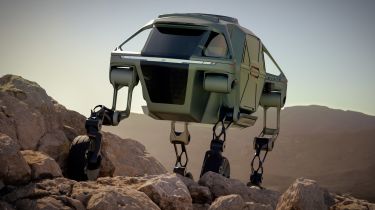 Hyundai has announced its plan for a robotic concept car at this year's Consumer Electronics Show. Called the "Elevate," it would be capable of walking over rough terrain, spanning gaps up to five-feet across and scaling obstacles up to five feet tall; all while maintaining a perfectly level passenger compartment.
Attached to each corner of the Elevate is a robotic leg, which can operate in five independent aspects of movement, allowing the Elevate to tackle almost any sort of terrain. It can walk in both a mammalian and reptilian fashion, and each leg can be independently locked, allowing for omnidirectional motion.
Naturally, the Elevate would be electrically powered with each leg bearing a wheel with an internal one-way electric motor. Also, when the robotic legs aren't being used they fold up and rest upon conventional passive suspension, which conserves battery life. Supposedly, with the legs stowed, the Elevate would capable of travelling at motorway speeds like a normal car.  
The Elevate concept (in the unlikely event that it should it ever reach production) would be built on a modular platform, with a range of interchangeable bodies tailored to specific situations. For example, an emergency response model could be used to deliver emergency servicemen directly to the scene of a natural disaster, by ambling over the broken terrain.
Other scenarios which Hyundai has designed include an Elevate Taxi, used to assist the disabled at inaccessible buildings and a consumer model for use in cold climates, capable of pulling itself out of snow drifts. There was no word on whether the Elevate could hoist itself up on to four legs and walk over traffic jams.
What are your thoughts on the new Hyundai Elevate concept? Let us know in the comments section below.