Consumer Electronics Show 2019: news round-up
Everything from this year's Las Vegas Consumer Electronics Show (CES), with debuts from Audi, Mercedes, Hyundai, Kia, Nissan and more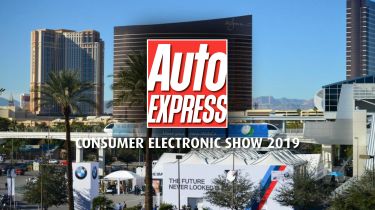 The 2019 Las Vegas Consumer Electronic Show did not disappoint, with the likes of Audi, Kia, Mercedes, Hyundai and Nissan all present at Sin City's convention centre this year with a wealth of new cars and technologies to show off. 
As the event is closed to the public we had our team on the ground to cover all the new car reveals and concept unveilings, while also bringing you all the latest news and the best images. 
The brand new Mercedes CLA fastback saloon was arguably the star of the show although it had tough completion from futuristic concepts such as Kia's R.E.A.D system and the Hyundai Elevate. Nissan also revealed the Leaf e+ with its extended range, while Audi showed off the next generation of its in-car entertainment system.
Scroll down below for all the key cars at the 2019 Las Vegas Consumer Electronic Show, plus a look at what each manufacturer had at the show...
Audi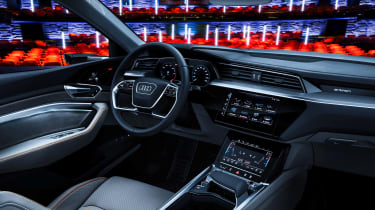 Audi unveiled its future plans for in-car entertainment, showcasing its latest gesture, touch and voice controlled infotainment system, as well as its plans for a "mobile movie theatre." Both of these were displayed on the company's the new e-tron electric SUV.
Audi envisions a future in which drivers will have more "free" time behind the wheel, thanks to autonomous driving technology. The German company's "mobile movie theatre" system aims to fill this "free" time by allowing occupants to enjoy film and television programmes via mobile streaming services.
For the time being, the system is only operational when the car is stationary. However, it's feasible that the technology could be used in future autonomous vehicles when self-driving technology is engaged.
Byton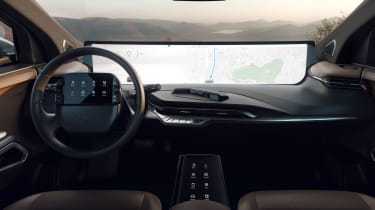 Byton, the Chinese startup electric car manufacturer, unveiled the latest version of its M-Byte SUV's interior. The main feature of this latest concept is a vast, dash-spanning, 48-inch widescreen "Shared Experience Display" (SED) infotainment system, carried over from the previous concept.
The infotainment doesn't stop there, however. The M-Byte concept will also feature voice and gesture control, along with a seven-inch steering wheel mounted display, an eight-inch touchpad between the front seats and a pair of touchscreens for the rear-seat passengers. All the systems and screens are connected and all can send messages and information to the large dash-mounted screen if required.
Supposedly, the system can recognise the voices of its users as well as identify the seat in which they're sitting. A machine learning system known as "Byton Life" can also sync with the driver's smartphone and schedule reminders, perform online shopping tasks and issue charging info.
Hyundai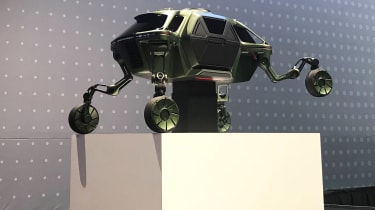 Hyundai MOBIS, parts supplier to the Korean automobile manufacturer Hyundai, revealed two concepts at CES; a concept car interior which introduces several new technologies focussed on driver convenience and autonomous driving, and a go-anywhere robotic concept called Elevate.
Hyundai's concept interior showcases the Korean company's new "Virtual Touch Technology;" an interior infotainment interface which recognises the driver's gestures instead of touchscreen commands. It's used to operate an adaptive windscreen (somewhat unimaginatively called "Windscreen Display Technology"), which is transparent during manual driving mode, but can be blacked out completely in autonomous mode, allowing the occupants to stream entertainment on a large display.
Partnership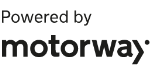 Need to sell your car?
Find your best offer from over 5,000+ dealers. It's that easy.
Another feature of the concept interior is an "Emotional Recognition" system, based on an AI platform which categorises the driver's emotions and alters the interior lighting to suit their mood. It also informs other nearby road users if the driver is distracted. Finally, Hyundai will showcase its latest generation of Hydrogen Fuel Cell technology.
Hyundai also showed its Elevate concept; an electric, robotic car which features wheels attached to extendable legs. It's capable of spanning five-foot gaps, climbing five-foot walls and can walk through adverse terrain, such as snow drifts and boulders, all whilst maintaining a level cabin. This, says Hyundai, will make the "Elevate" a useful tool in natural disaster zones and mountain rescue situations.
Kia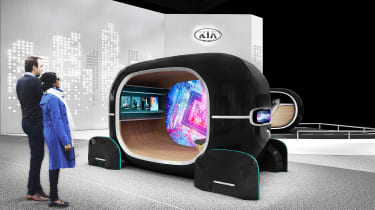 Kia previewed a range of driver convenience technologies at the 2019 Consumer Electronics Show, which it says will ease the usability of its future vehicles when autonomous driving becomes commonplace across its range.
For the time being, the South Korean auto manufacturer has only announced one. Called the Real-time Emotion Adaptive Driving (R.E.A.D.) system, it adjusts a car's interior lighting and climate according to the driver's emotional state, using a range of sensors and artificial intelligence.
Developed in conjunction with the Massachusetts Institute of Technology (M.I.T.), the R.E.A.D. system is housed inside a car-shaped display called the "Space of Emotive Driving" exhibit. Kia is offering 15-minute tours of the display throughout the 2019 Consumer Electronics Show.
Mercedes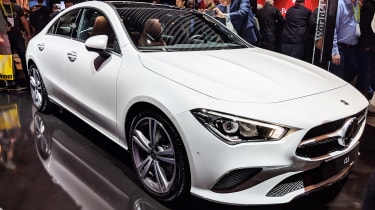 Mercedes showed-off three cars at the 2019 Consumer Electronics Show. First, the German company debuted its new CLA fastback saloon, which borrows a host of technology and infotainment features, as well as a mild-hybrid powertrain, from the newest generation A-Class.
The German automobile manufacturer also showed its Vision URBANETIC concept; an autonomously-driven, all-electric vehicle which hints at Mercedes's future plans for mobility. Mercedes plans for the model to be adaptable to suit either passenger transportation or cargo delivery.
In addition Mercedes rolled out the EQC. This battery-electric, all-wheel-drive SUV debuted at the 2018 Paris Motor Show with a power output of 396bhp and a claimed range of 279 miles.
Nissan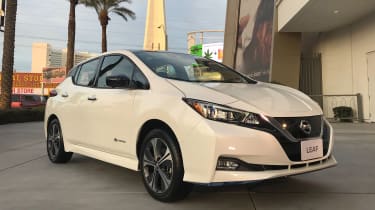 Nissan released a new long-range version of it's all-electric hatch at this year's Consumer Electronics Show, called the Leaf e+. It's fitted with a new 62kWh battery pack, which is 22kWh larger than the standard car's capacity, and claims a range of up to 239 miles on a single charge. Also, recharging to 80 per cent capacity will only take 40 minutes using a 100kW charging point.
Performance is also increased over the standard Leaf; power increases by 67bhp to 215bhp, whilst torque climbs to 340Nm. The Leaf e+ also boasts a slightly increased top speed of 98mph, up from the standard car's 90mph.
Inside, the Leaf e+ gets a larger eight-inch infotainment system as standard with updated sat-nav. Little changes on the exterior, apart from a mildly updated fascia and some e+ badging. Prices will be announced closer to its European release date this summer.
Rinspeed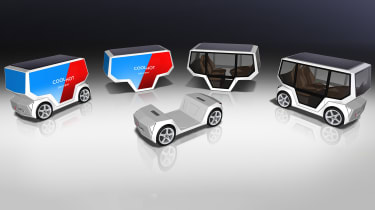 Renowned Swiss design house, Rinspeed, is aiming to bring autonomy to delivery vehicles and taxis with its driverless SNAP and MicroSNAP concepts. The aim of the concepts is to speed up delivery times in congested city centres, where swarms of MicroSNAPs head out on individual deliveries in place of one big van doing multiple deliveries along a route.
The SNAP concept was unveiled at the 2018 Consumer Electronics Show, of which the MicroSNAP is essentially a shrunken variant. With dimensions no bigger than a Renault Twizy, the concept is built on a "skateboard" chassis, with a choice of two interchangeable "pods," in either a passenger compartment or cargo compartment configuration.
Rinspeed plans for the "pods" to last as long as conventional car bodies, with the "skateboards" being decommissioned, recycled and replaced once they reach the end of their useful life.
Toyota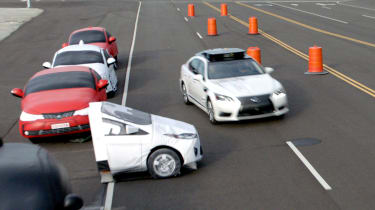 Toyota showcased its plans for a new accident avoidance system called "Guardian." Unlike systems from Audi and Volvo, which can take control of the vehicle's brakes and steering to mitigate accidents independent of the driver, Toyota stresses that its system will be primarily used to improve the driver's ability to avoid accidents, requiring them to be in full control at all times.
The system will be based on "blended envelope control." Instead of a black and white scenario in which either the driver or computer are in control, the Guardian system is designed to work collaboratively with the driver, providing minimal corrective assistance only when it senses the driver's inability to correct an impending collision.
Let us know what impressed you most at CES 2019 in the comments below...