Audi to unveil latest infotainment system at CES 2019
Audi to display "mobile movie theatre" style entertainment system, which will eventually work with its automated driving technology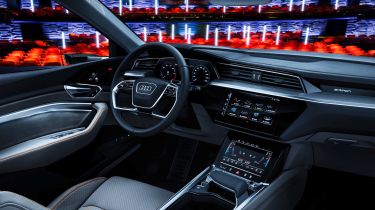 Audi will present its plans for the future of in-car entertainment at the 2019 Consumer Electronics Show (CES), showcasing its latest infotainment system alongside a new "mobile movie theatre". Both systems will be displayed in the new e-tron SUV.
• What is Audi's Virtual Cockpit?
The German car maker states that in the future, due to the rise of autonomous vehicles, drivers will have more "free" time behind the wheel. So, to prevent boredom, Audi has developed a movie theatre style system that allows drivers and occupants to enjoy films and television programmes provided by mobile streaming services.
For now, the the technology is only functional when the vehicle is stationary. However, Audi will also unveil its next generation infotainment system format, which will be available for use when the car is in motion. 
Details on exactly how the system will look and operate are scarce, but we expect the latest gesture, voice and touch commands, combined with updated display screen graphics and a new stereo to feature.
What are your thoughts on Audi's latest infotainment system? Let us know in the comments below...