Hyundai reveals solar roof charging system
Hyundai has fitted its Sonata Hybrid with a new solar roof, claiming it will provide an extra 800 miles of range each year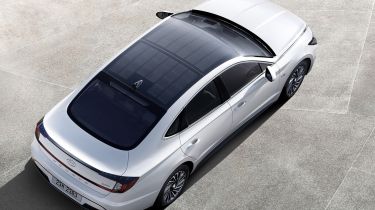 Hyundai has revealed a new solar roof charging function for the Sonata Hybrid. It's the first model from the firm to feature the technology, although it will not be coming to Europe or the UK.
The solar charging system comprises a roof-mounted solar panel and a voltage controller that converts the energy generated by the solar panel into a useable format. Hyundai claims the system can recover between 30 and 60 per cent of the battery's charge each day, providing an estimated 1,300km (around 800 miles) of extra range each year.
• Best electric cars on sale in 2019
The system will be offered with Hyundai's 2.0-litre four-cylinder Smartstream petrol-electric hybrid powertrain which, for the Korean market, produces a combined output of 192bhp. The engine is mated to a six-speed automatic transmission and offers claimed economy figures of 56.7mpg.
While the technology plays a supporting role with the new Sonata Hybrid, Hyundai has also hinted that it will develop the technology further, applying it to its future all-electric models as a more important method of energy generation.
There's also the chance that Hyundai will offer a version of its solar technology on its conventionally powered models in the near future. Heui Won Yang, Senior Vice President of Hyundai Motor, said: "We are striving to further expand the application of the technology beyond our eco-friendly vehicle line up to vehicles with internal combustion engines."
What are your thoughts on Hyundai's new solar roof? Let us know in the comments section below…