Hyundai plots electric city car for under £20k
Hyundai is looking to expand its EV line-up with an affordable compact model to rival electric city cars from the Volkswagen Group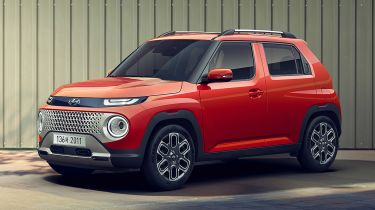 Having gathered serious momentum with the mid-sized Ioniq 5, Hyundai is set to venture into the more affordable end of the electric car market with a small city car designed to go head-to-head with the Volkswagen ID. Life and Cupra UrbanRebel. 
The firm's European marketing boss Andreas-Christoph Hofmann told Automotive News Europe that €20,000 is the target price for the vehicle, which will be one of 11 new electric Hyundais launched in Europe by 2030. 
Producing a profitable electric city car is no easy feat due to their low asking prices and comparatively steep development costs, meaning that Hyundai could launch an electrified version of an existing small model instead of a ground-up EV. 
It's possible that this could be an EV version of the Hyundai Casper (pictured), a compact SUV-style city car which has been well-received globally in spite of it only being on sale in South Korea. Hyundai might be hoping that an electrified version of the car could reach a wider audience that could include Europe and the UK.
The Casper's chunky design would also play to the current popularity of SUVs in Europe, following brand's like Toyota with its off-road inspired Aygo X city car. Hyundai's offering will take the fight to A-segment EVs from the Volkswagen Group, details of which have been teased over the last year. 
The Volkswagen ID. Life and Cupra UrbanRebel are already under development, with a compact electric Skoda also in the works. These will be based on the MEB-Small platform, which is expected to provide more than 250 miles of range. 
The Hyundai will need to provide a similar range figure in order to compete in what is a tricky sector to conquer, but a production-ready model is still some time away according to Hofmann.
Now take a look at the longest range electric cars you can buy now...