"A reunified Korea would be in the top three global car-producing nations"
Mike Rutherford's looking into the relationship between the Koreas... and found that in car manufacturing, they get along surprisingly well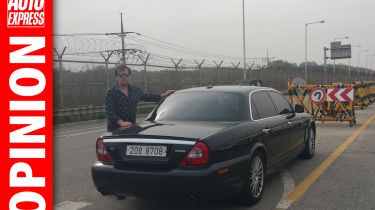 Enjoyed a quiet if surreal drive north the other evening. Although I was on a modern, multi-lane highway, my sat-nav advised that there'd soon be nothing - no road, lane, track or path - to take. Then the street lighting ceased, replaced by darkness. Next my headlamps found banks of U-turn signs and razor wire. After a long, long drive I'd arrived at what's described as the scariest border on the planet, the one dividing South and North Korea.
The motor manufacturing success of the South Koreans is well documented. Hyundai Group reckons it's built 100 million vehicles so far. But the firm has grown so huge down south that it's running out of factory land, road space, natural resources, power stations and production line employees. That's why it and other vehicle producers - including Samsung - need the greenfield sites and countless millions of hungry, willing and able workers up north.
• Inside Hyundai's Ulsan factory
Politically, militarily and legally the two Koreas are still at war. On the day I was on the border, careful not to drive over The Bridge Of No Return, the North allegedly tried to launch a Soviet ballistic missile. Hours later it reportedly threatened to attack the home of Geun-Hye Park. She's a qualified engineer and the President of South Korea. The fact both her politically active parents were assassinated proves the Korean peninsula was and still can be dangerous territory.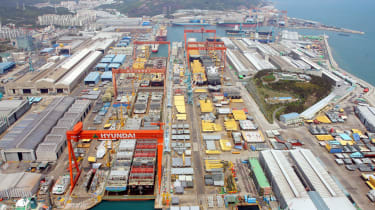 But capitalist business leaders down south and their Communist counterparts up north get along surprisingly well, with the former now employing tens of thousands of North Korean factory workers at Kaesong, six miles north of the border. Currently, they make things like components. But they're proud, capable, hard workers. And they're much cheaper to employ than southerners. So there's no reason why they couldn't - if handed the right factories, tools, training and political climate - build vehicles bearing Hyundai, SsangYong, Kia and Samsung badges.
Trouble is, the Demilitarised Zone and armies on both sides divide North and South Korea even more dramatically than the wall that split East and West Germany. It's surely inevitable that the two Koreas will eventually become one. If and when they're reunified, the Koreans seem all set to evelate their country into the top three of car producing nations - just behind China and Japan, but in front of Germany and the USA.
How far do you think Korea can go in challenging the giants of global car production? Let us know in the comments below...