Hyundai Tucson - best small 4x4s
The Tucson is an upmarket and dependable crossover backed by a five-year warranty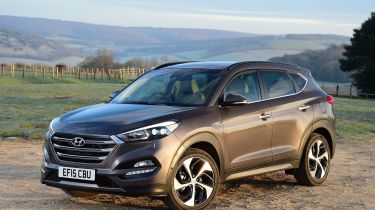 Looking like a smaller sister-model to the larger Hyundai Santa Fe SUV (which it is), the Tucson definitely has a premium feel outside. Inside, while the cabin appears admirably put together with quality materials, the design is a little bland and uninspiring.
There's not much else to complain about though. The Tucson boasts an enormously spacious cabin that puts some rivals to shame, and is very well equipped for the money, too. As with many of the smaller SUV/crossover class, the most popular models are likely to come with two-wheel-drive, but the option of 4x4 is present.
Ride comfort is good, and while the Tucson is hardly sporty it corners comfortably with well-controlled body roll. It's quiet and refined too, with the engine noise well isolated, and there's plenty of performance on tap especially if you pick the most powerful 182bhp diesel. The only other engine option for 4x4-equipped cars is a 174bhp petrol, which we wouldn't recommend as it's thirstier and you have to work it too hard.
The Tucson doesn't boast the engaging driving dynamics of crossovers like the Mazda CX-5, but for practicality and comfort, it's a strong contender.