Infiniti Q50 long wheelbase
The long-wheelbase Infiniti Q50 and QX50 will go on sale in China in 2014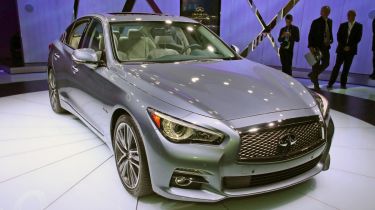 The Infiniti Q50 long wheelbase model has been unveiled at the Shanghai Motor Show, with the firm confirming that the extended Q50 and an all-new QX50 SUV will arrive in China in 2014.
The lengthened Q50 will be a rival for the long wheelbase BMW 3 Series that's designed to appeal to Chinese buyers who prefer to be chauffeured rather than drive themselves.
Both the Q50 and the BMW X3-sized QX50 crossover will be built in the Hubei Province of China in the Xiangyang factory, which is owned by Dongfeng, Infiniti's partner in China.
In addition to the extended Q50, Infiniti will also debut the Q50 hybrid, which will be sold in China alongside a model powered by a 3.7-litre petrol V6.
The hybrid will also be offered in Europe. It's powered by a 3.5-litre V6, that's supplemented by an electric motor, and will accelerate from 0-62mph in 'around' five seconds.
The car will be sold here from 2015, but is still likely to be a small volume car, with the four-cylinder diesel model set to take the largest slice of sales.
Infiniti is investing heavily in the Asian market. The firm moved its global headquarters to Hong Kong, to be better placed to serve the need of the Chinese market. Currently, China is the firm's second-biggest market, after the USA.
Talking at the launch of the car, President of Infiniti, Johan de Nysschen, said, "Last year we established our global company headquarters in Hong Kong in order to be even better positioned to serve China, the world's largest luxury market."