Official: Isuzu electric pick-up truck on the way to the UK
The maker of the well established D-Max pick-up truck will launch its first EV in Europe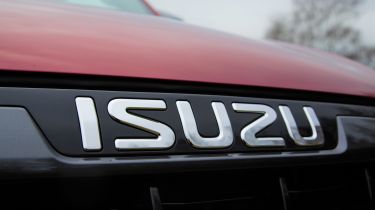 Isuzu is jumping on the electric pick-up truck bandwagon, declaring that it will introduce a battery-powered pick-up truck for Europe.
The announcement was made by Isuzu's President and COO Shinsuke Minami, who spoke at the unveiling of the updated Isuzu D-Max truck in Bangkok, Thailand: "Isuzu is actively taking efforts to realize a carbon-neutral society. Going forward, Isuzu plans to produce a BEV (Battery Electric Vehicle) pickup truck in Thailand. 
"Isuzu will first introduce it in Europe and then examine its gradual roll out by meeting the needs of each market, including Thailand."
Unfortunately that was all Mr. Minami had to say on the matter. No technical details for the Japanese brand's first-ever EV have been revealed yet, nor has a timeline for the truck's European launch.
We don't expect Isuzu will be making a bespoke EV like the Rivian R1T or Tesla Cybertruck, and instead will make an electric version of its existing D-Max pick-up. We've already seen this done with the Maxus T90 EV truck, which features a 201bhp electric motor and a substantial 88.6kWh battery in place of the diesel engine found in the regular model sold in Asia. Maxus claims it's good for a range of 220 miles on a full charge, while prices start from a smidge under £50,000 (excluding VAT), which gives Isuzu something to aim for.
The T90 EV is the only electric pick-up currently on sale in the UK, but there's potential for the new Fisker Alaska to come here, with the company's CEO Henrik Fisker citing the success of vehicles like the Ford Ranger in the UK as a motivation. The Alaska sits on a stretched version of the Fisker Ocean electric SUV's platform, and will be offered with either a 75kWh battery for a range of 230 miles, or a 113kWh unit that supposedly boosts the range to 340 miles. 
There have also been rumours that SsangYong – soon to be rebranded as KGM – will be launching an all-electric pick-up truck after it unveiled the 0100 concept at the Seoul Motor Show earlier this year. Surprisingly, Ford hasn't announced any plans to make an electric version of its best-selling Ranger, only going as far as making a plug-in hybrid version that'll arrive in 2025 with a zero-emissions driving range of over 28 miles.
But while Isuzu readies its electric pick-up truck, the faithful diesel D-Max remains on sale and has been updated. Earlier this year the D-Max received some subtle styling tweaks and interior changes, plus some new alloy wheel designs, the latest model unveiled in Thailand features a new seven-inch display for the instrument panel and an upgraded reversing camera. When these latest changes will be applied to UK models has yet to be announced.
We've driven the UK's first electric pick-up truck! Read our review of the Maxus T90 EV...