Jaguar Land Rover reveals sensory steering wheel
Jaguar Land Rover has developed a new sensory steering wheel that uses temperature-based instructions to inform drivers about navigation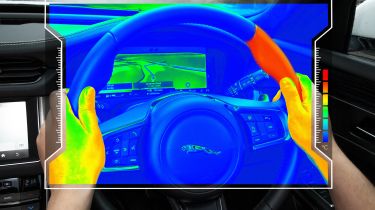 Jaguar Land Rover has partnered with Glasgow University to develop a new sensory steering wheel that heats and cools to inform drivers of upcoming junctions.
To alert drivers, the temperature of the sides of the steering wheel changes by a difference of six degrees celsius but can be adjusted to suit individuals. JLR said the tech will be useful when driving in poor weather conditions.
• JLR reveals new 'earn as you drive' technology 
The technology has been developed to help raise drivers' awareness and keep their eyes on the road, rather than a sat-nav screen, as driver distraction is one of the biggest contributors to road accidents.
JLR said the tech can also be integrated into the gear-shift paddles for future autonomous vehicles. The paddles will heat or cool when the control of the vehicle has been handed from the driver to the car itself. Other applications of the technology include non-urgent warnings such as fuel level or points of interest ahead and can be used as an alternative to audio or vibrating notifications.
The project follows on from previous safety features developed by JLR such as autonomous mobility pods fitted with 'digital eyes' to inform other road users about their direction of travel and awareness.
Do you think a sensory steering wheel is a good safety idea? Let us know in the comments below...