Jaguar Land Rover reveals prototype Covid-inhibiting cabin filtration system
In-car harmful bacteria and viruses reduced by 97 percent through Panasonic's nanoe X technology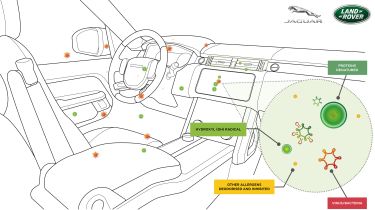 Jaguar Land Rover has announced a new air filtration system for use in car interiors that inhibits up to 97 per cent of harmful bacteria and viruses - including Covid 19. 
Currently at the prototype stage, the new system is also capable of deodorising the car's interior and removing allergens to ensure the cleanest possible environment for its occupants.
The system works with technology from Panasonic, called nanoe X. This uses a high voltage system that creates trillions of Hydroxyl (OH) Radicals: naturally occurring molecules of oxygen and hydrogen atoms, whose highly reactive nature enable them to react with any airborne contaminants they come into contact with.
When they react with, for example, the protein strains of the SARS-CoV-2 virus, it breaks down their structure. This means that the bacteria or viruses are unable to grow or reproduce.
While 97 percent of bacteria and virus were inhibited in a 30 minute experiment simulating the conditions of a typical car interior, further testing has shown that the system wipes out 99.995 per cent of the Covid virus during a two-hour lab test.
"This technology is a great example of being able to harness the power of nature and puts Jaguar Land Rover right at the forefront of this cabin technology," said Alexander Owen, Research Engineer at Jaguar Land Rover. 
"Hydroxyl Radicals are one of the most important natural oxidants in chemistry and have been helping to clean our atmosphere for millennia, removing pollutants and other harmful substances. The creation of this technology and our advanced research, is the first step in deploying this scientific phenomenon within vehicle cabins of the future."
The system, says Jaguar Land Rover, could be controlled through a smartphone device. This means that much like pre-heating and cooling systems offered in some cars today, future Jaguar Land Rover products could be pre-purified before entry. 
Do you think Jaguar Land Rover's cabin filtration system is a good idea? Let us know in the comments section...